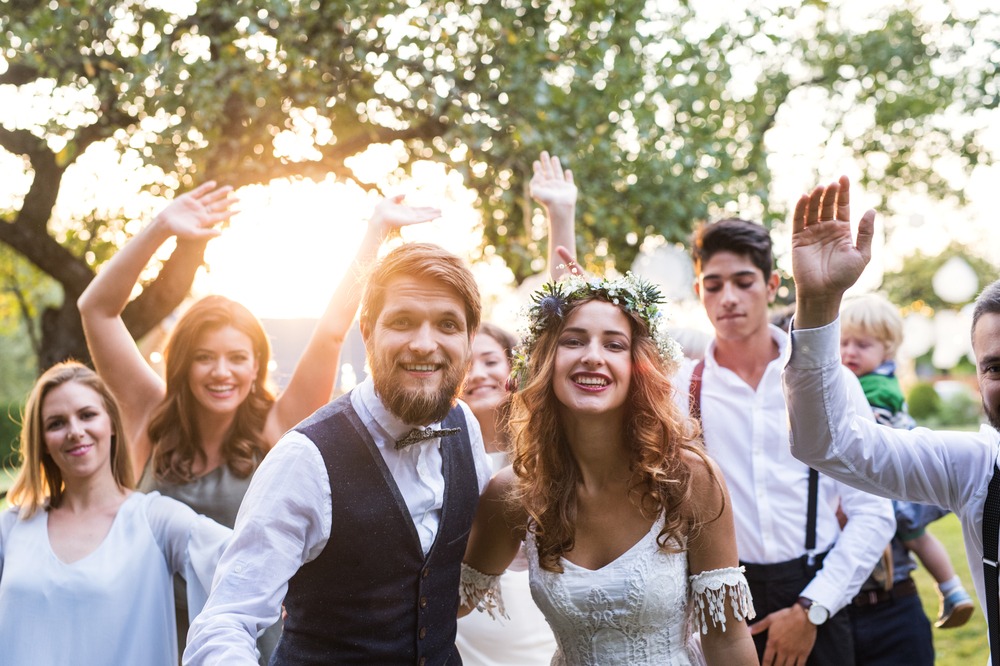 The general reason one would use an event rental CRM software is that clients are typically the main focal point of any business. No matter what industry one may be in or what products or services they offer, if they don't have clients, there's no way the business can actually operate even if it had all its resources fully intact! Clients are the ones who give businesses a sense of direction and purpose. They may also provide important feedback needed to help companies/organizations/businesses grow and improve as well. Lastly, since companies cannot survive on words alone, they only survive if they receive revenue coming in through their doors! That revenue is earned by having loyal customers support them. 
Providing clients with excellent customer service is a challenging task for many small businesses to manage on their own and it is easy to let mistakes slip by or not notice an influx in orders at certain times. The best way to avoid this and maintain a positive, consistent experience for your customers is through using a system that allows you to keep meticulous records of all client information and activity like sales, invoices, emails, phone calls, etc. This makes it much easier to track your customers' information and helps prevent negative word-of-mouth or high rates of client turnover.
Keeping customers happy and managing their accounts is important. This is why many businesses are making use of CRM software. It can consolidate key information, organize processes, and more. This way, business owners can have all of the data they need in one centralized hub to make sure that customer relations run smoothly.
The CRM software market (Customer Relationship Management or Client Relationship Management) is currently one of the fastest-growing industries in the world, projected to grow at a rate of 14.27% from 2020 to 2027. The demand for improved customer service and better customer relationships is driving up their demand due to consumers seeking additional convenience and more meaningful interactions with companies they patronize.
What is a CRM?
CRM software helps you manage your important relationships with customers, which makes it easier for you to coordinate better across multiple platforms. With CRM at your fingertips, you'll have all the resources and information available right where you need them when making decisions that ensure that each customer gets an experience tailored to their personal needs. The data is collected in a central place so you can quickly view insights related to what's working and what isn't. This helps you maximize revenue and save time through streamlined processes, such as sales and marketing automation.
Here are some of the features that Rentopian provides in our event rental CRM module:
The CRM allows for customers to be logged into their own user profile where information is managed easily. 

By adding a client's type to each customer, frequent sales of certain types of customers can lead to exemptions on coupons, damage waivers, and other such things. 

Viewing individual records of a particular customer will allow users to see quote info, orders made, payments made, saved credit card information, event planner contacts, and much more.

Scan the barcodes of your customer's IDs to instantly input information about them.

Add internal notes and tasks associated with the client

Overview and full detailed views of activities related to email communication with a date timestamp, attachments, and email text.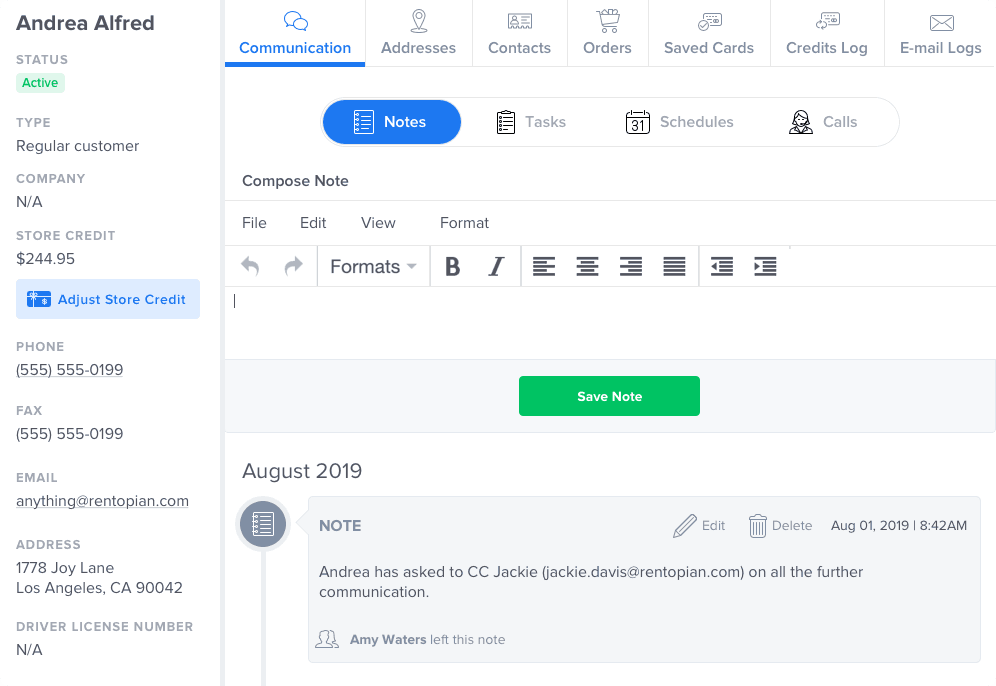 Benefits of having an event rental CRM software:
Centralize information: It's vital to have a central location for your project that allows you to keep tabs on all of the data, information, and members who are involved. Having a hub makes it easy to view everything in one place. You and your team can keep all client data and communications in one place. This allows you to manage all information, records, communication with clients on your cloud-based file sharing service. Everything is kept secure and accessible from anywhere.
Increase customer retention: Once leads have converted into paying clients, it's important to make sure that you maintain a steady stream of quality support so they keep coming back. Repeat customers are vital for generating revenue and with loyal customers, one is much less likely to experience significant revenue fluctuations or disruptions in cash flow as often. A CRM can help you track customer experiences and be sure to encourage loyalty throughout the duration of all their transactions so that they keep coming back. You can read more about client retention here: 8 Tips for High Client Retention In Your Event Rental Business
Streamline internal team communication: Besides helping you keep in touch with your customer base, a customer relationship management system allows your employees to connect with each other efficiently. Your team sees what other team members have been doing from their customer contact logs, and can email or contact each other using the CRM's messaging system. You can tag team members on tasks, or even make comments on their client's profile. This makes it easier for your staff to share information so that everyone stays in the loop. With a CRM, you and your team will never again need to spend time and resources logging calls, emails, showroom appointments, or any other interactions. The software will be able to automatically collect the needed information that will be logged in the system including all of the valuable data regarding customers and prospects.
Enhance customer service: An event rental CRM makes it possible for different departments to access the information they need to provide great customer service at any given moment. For example, if a client were to call in and your staff had access to notes made previously about that client and their inquiry, they would be able to answer any questions without having to scramble around looking for answers.
Increase sales: The cost and time needed to manage customer information manually can quickly add up and result in lower sales by your team. By automating internal communication, event rental companies can increase their efficiency and save thousands of dollars a year. Your team can use the tools provided by CRM software in order to gather and organize data about prospective and current customers, streamline processes through automation, and keep track of goals for each member of the company as a whole. The CRM also allows team members to check their performance on several tasks at once with one look on a dashboard so they can evaluate their efforts. It can also provide an overview of how your processes are working and which areas need to be improved. 
Having a CRM will benefit your event rental business exponentially. A CRM can benefit you regardless of whether you're a small, medium, or enterprise event rental business. If your company uses a CRM, you'll be amazed at how much more productive and successful it allows you to be in your industry. Rentopian specializes in helping event rental businesses of all sizes and types around the world. To learn more about Rentopian's event rental CRM module, click to schedule a demo on a date and time that works best.