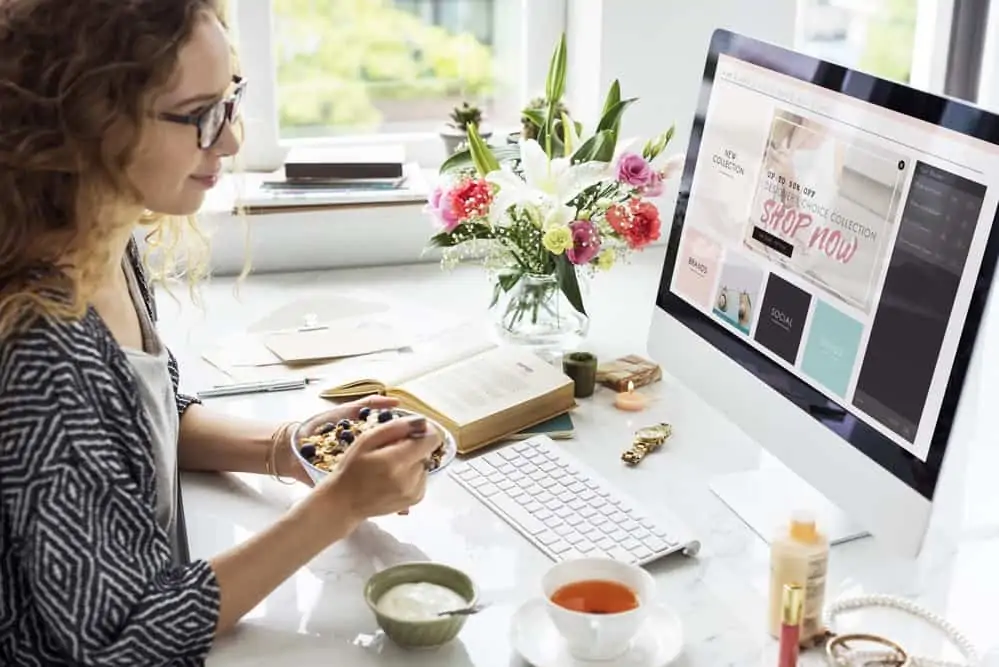 As the world we live in becomes increasingly digital, more and more people are turning to the internet to make their purchasing decisions. A consistent trend in the event industry has been a larger percentage of all commerce taking place online each year.
If you don't have a way for your customers to purchase or rent items for your shop either via an online marketplace, then you're going to need to invest in your business's online presence and website immediately, because of the speed at which the world is shifting towards digital, purchases will continue steadily increasing each year. This is why another important trend is that you have to be able to market your products and services online since many people today prefer making purchases/renting via their computer or smartphone than in person or over the phone. As we know, consumers want and expect convenience when it comes to their spending habits – so there's nothing wrong with joining them and offering the customers who support you what they want!
For rental clients, it's easiest when you can give them everything they need in one place. Let's say for example that a bride wants to plan her upcoming wedding and she knows exactly what decor she'd like for her big day. By having an online storefront where the bride-to-be can browse various rental items, you're saving her time from having to look through several different websites just to get what she needs. Customers have grown more accustomed than ever before to getting things when they want them so make sure your business is supplying them with exactly what they want! Having an online shop for your events business has become easier than ever with online store builders.
Now imagine how much easier it will be for your clients to book directly with you by scrolling and browsing through the various products available on your website. When they use an online shop, it makes it so much simpler and easier! Here are three reasons why your event rental business can benefit from having a website and online storefront:
Establish a Wider Reach 
It is imperative that businesses focus on expanding their business across domains. An online storefront gives your business an advantage over competitors operating solely offline. This means being able to reach out to customers who are spread out geographically and may not be as easily accessible or noticeable otherwise. 
Not everyone does their wedding planning online, but most people do conduct quite a bit of event-related research before making any purchases or even booking an in-person appointment to visit your showroom. 
A great way to optimize for search engines is by increasing the number of pages and search terms on your website that contributes to how relevant your website appears to potential customers. By installing Rentopian's plug-in onto a WordPress-powered website, you create an additional resource of pages with an abundance of keywords thus contributing to the overall relevancy and ranking of your WordPress site. Just like people are more likely to buy from you if you have a storefront in an area with heavy foot traffic, people are much more likely to view your website if your company website is included in the searches for what they need. Developing an online bookable platform that both provides information about the product as well as allows customers to create quotes or book directly on your website can help your company grow exponentially every single day.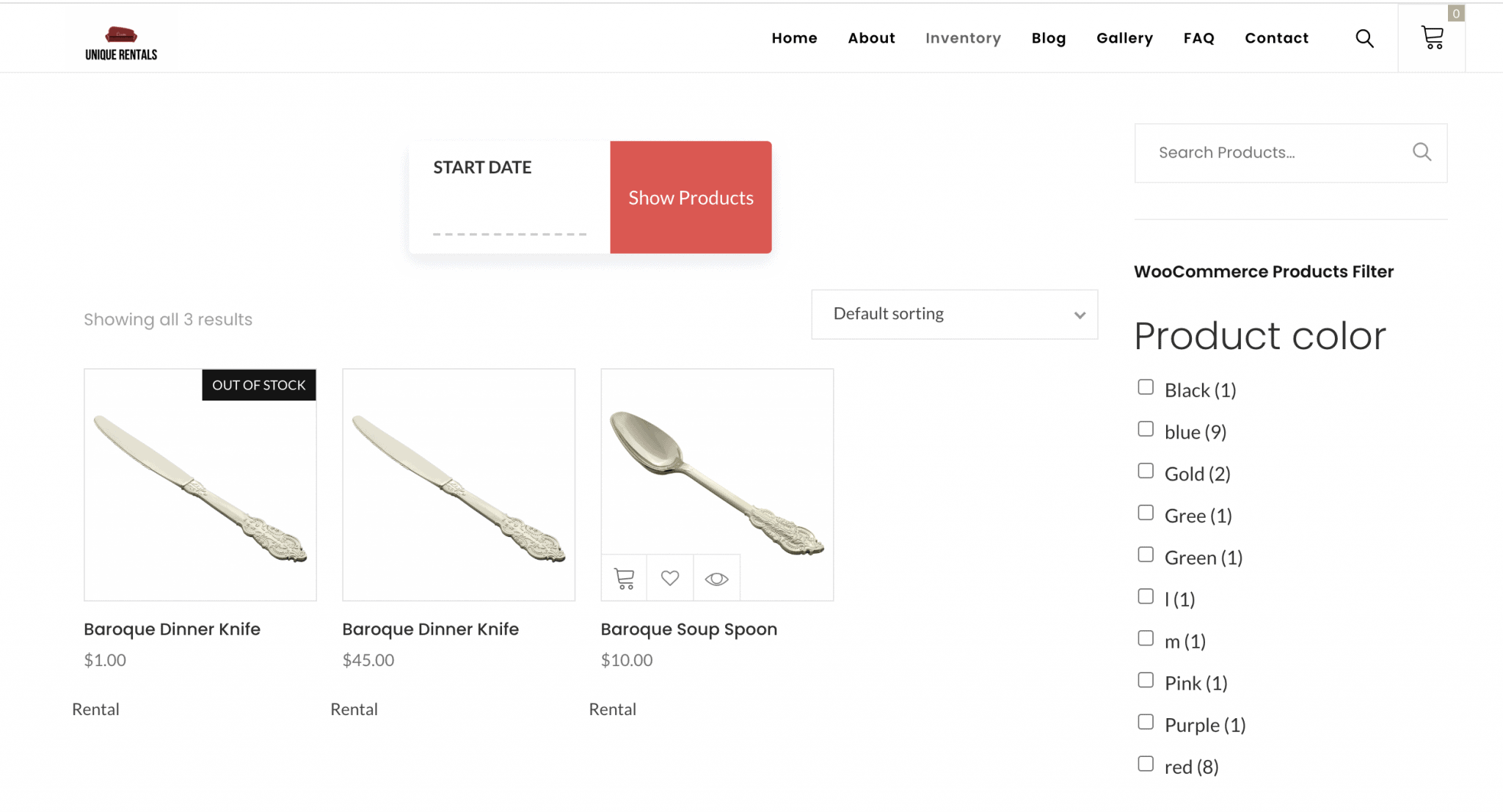 Be Easily Reachable and Reach Out Easily
With so many things competing for customers' attention, offering them a way to get in touch with you and quickly gain helpful information about your products or services is crucial. An online store allows customers to stay up to date on your business and view any available offers at any time of day or night, making it easier by removing the hurdle of needing to control how they receive those updates.
With our WordPress website integration, you can create a direct connection with your customers to help with sales. It allows for customer service like never before by allowing private lines of communication that you can either personally address or delegate to others in your company so as to secure important deals and communicate crucial details. Being able to book events around the clock is a huge convenience and makes it easier to keep your business running smoothly, even during nights or early mornings which often tend to be less busy than other hours of the day.
Rentopian's WordPress plug-in makes sure that your inventory is synced between its site and your website in order to keep prices, availability, promotions, and other key product information consistent everywhere.
Here are all the steps the website visitor will take on your website using Rentopian's WordPress plug-in:
Clients find or are redirected to your event rental website. 

Clients can enter their desired rental dates and time and their zip code then browse your products, packages, and services. 

They're able to select their desired rental items, including variations, colors, sizes, texture, and so on, and add their inventory items to the cart. 

After proceeding to the checkout page, the client can then enter all of the necessary information regarding their event, including but not limited to- their delivery information, event hours, venue information and access, and so on. 

Depending on the settings within your event rental software, the client will either have the option to submit a quote or to pay online and place a direct order. 

Once a quote or order is submitted, you'll be notified within your event rental software and have all of the transaction information synced in real-time to your Rentopian account.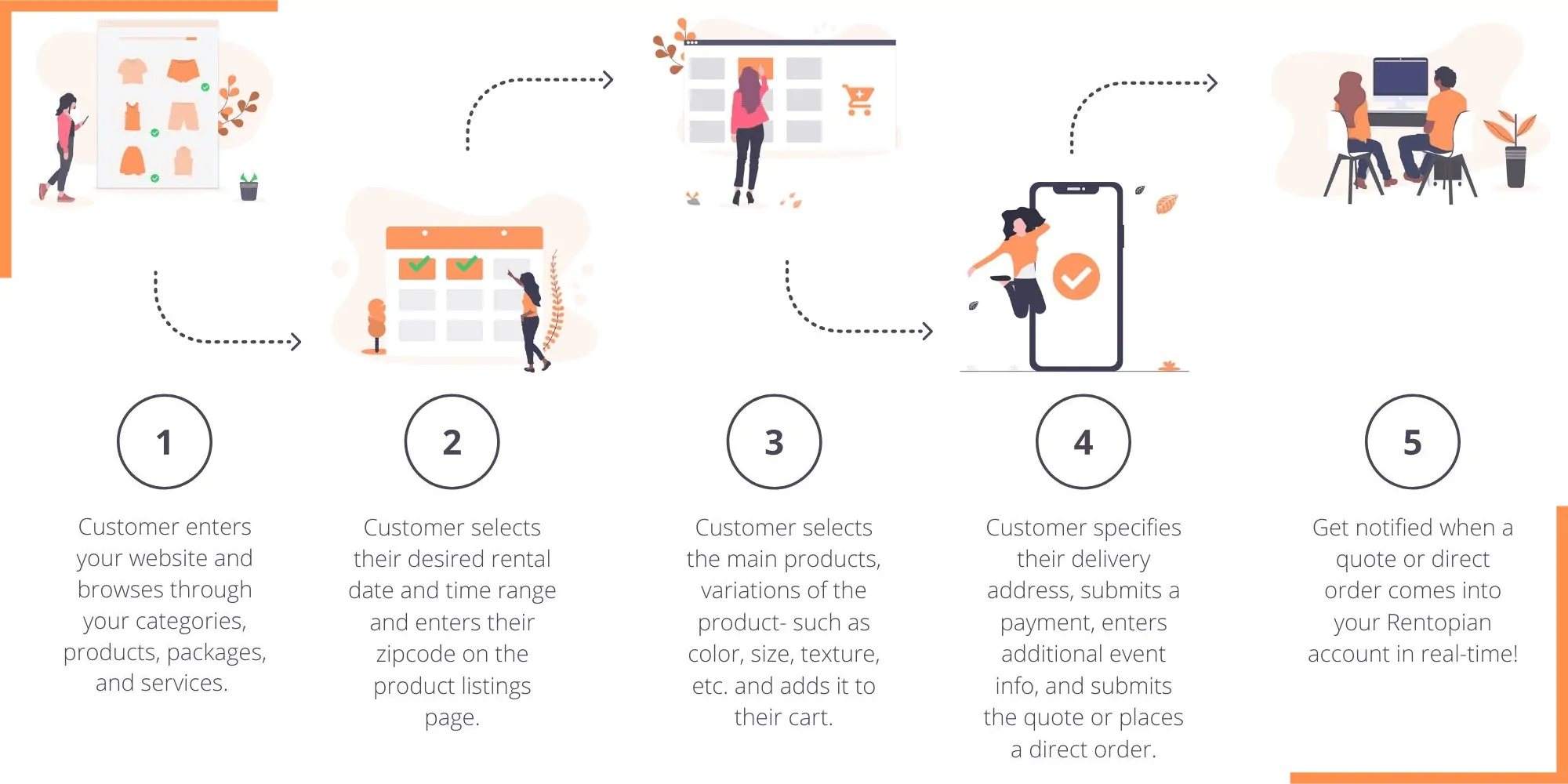 Financial Feasibility
In today's modern age, there are many powerful channels through which businesses can appeal to their target audience – at a fraction of the cost of renting a location. A website or blog, as well as Instagram and Facebook, offer two great ways to access your target audience. If social media marketing is done correctly, you'll be able to transfer the potential clients visiting your social media accounts to your website, where they will then browse through the products you have available for rent and potentially make an outright reservation, you will make all sorts of sales without having to pay for expensive real estate.
Nowadays it's easy to promote your business online, a far cry from the cost of owning a physical storefront and paying rent. If you're able to find the right audience for your company or brand you can easily utilize your social media accounts as selling tools because the main way people find out about new brands or businesses on each platform is through following account links on social media.
We understand that creating a strong online presence for your promotion business may be easier said than done. The internet has many moving parts and you can quickly get overwhelmed by the sheer amount of information available. Luckily, there are digital marketing tools that can help businesses with their online presence to ensure they are getting their name out there to the masses who are looking for what they provide. Digital marketing is king in modern business; it is a huge competitive advantage and can make or break an event rental company's reputation, so make sure you aren't sleepwalking when it comes to your company's online reputation!
Final Thoughts
The internet is a powerful tool to publicize one's business and with the expansion of mobile platforms, many business opportunities have come along. As an entrepreneur, you are able to expand your markets across the world while keeping costs low and increasing sales through e-promotion, event rentals, and services where transactions can be done both in-person and online.
The number of people using the Internet is growing larger every year. In fact, there's no better time to increase your business sales by selling your product online than right now. And because so many people are shopping online, it will open up a whole new market for you to tackle and conquer! For a free demo and a 2-week trial of the software that users are saying is "the best in the industry", submit your information here.