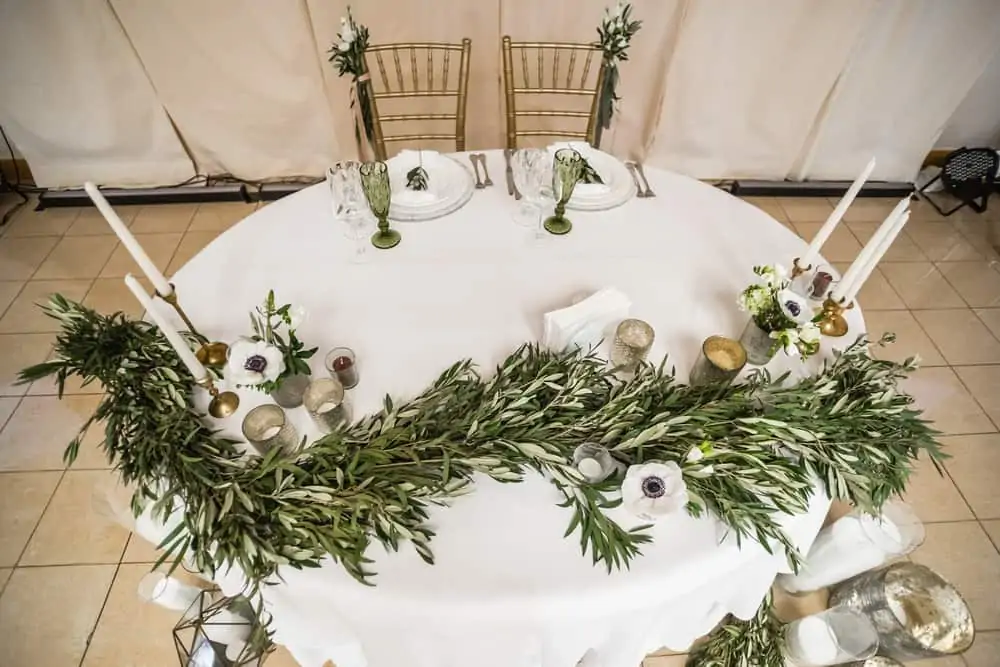 If you're in search of an event rental software, you may hear a software company representative throwing out terminology such as 'in the cloud', 'web-based', 'cloud-based', or 'desktop-based'. What exactly does all of that mean and what's the difference? Well, desktop-based software is a program on a CD that you'd have to purchase and download onto your computer. Meanwhile, web-based or cloud-based means that you can access the software or app on any device, from anywhere- as long as you have an internet connection. In the past, many businesses would use desktop-based software- which has proven to be costly and inefficient. While each business's reasons may vary, businesses of all industries, geographies, and sizes are migrating to cloud services. 
When you post an image on Instagram, you're using a cloud service. Need to deposit a check using the banking app on your phone? That's also done through the cloud. Cloud services are present in our everyday lives, so it only makes sense to use cloud-based event rental software to solve the challenges you face in your event rental business. Cloud-based services help businesses improve cash flow, increases efficiency, and more. 
According to the Vanson Bourne report, cloud-computing has a significant impact on businesses, as shown below: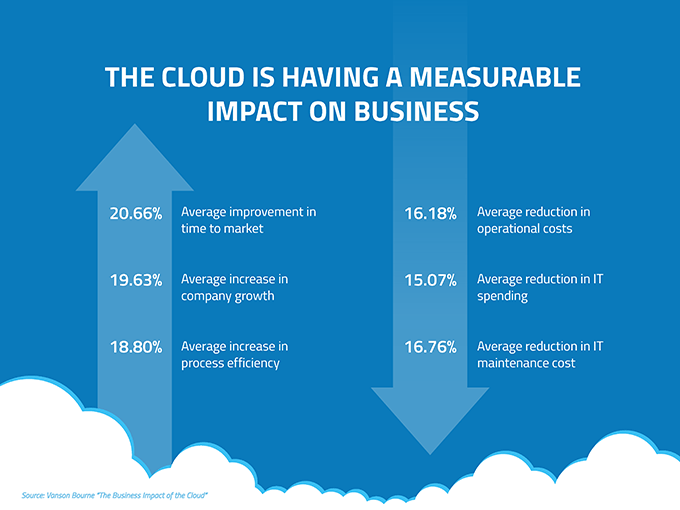 Keep reading to find out the top 10 benefits:
Instant Inventory Availability 

A cloud-based rental inventory management software like Rentopian allows you to track your inventory levels in real-time and know that the rental inventory going in and out of your business is accurate. This allows you to see exactly how much stock you have on hand at any given moment. If an order is placed and that inventory item is no longer available for a specific timeframe, you will know right away. This is an essential function in order to prevent overbooking or double-booking your event rental inventory. Additionally, all inventory items, variants, and quotes and orders have an activity and user log so you can clearly under

stand what products went where, when, and who rented it out.

Automatic Software Updates

The latest version of the software and updates are made available to all users immediately, as soon as the updates are released. Due to this, new features and functionality are done more frequently which helps event rental businesses get the most use of the software. On the other hand, desktop software has infrequent upgrades- typically once a year, and takes some time to roll out and may even require the user to configure the new setup or hire a server administrator to do so.

Cost-effective

Cloud-based software providers are typically considered to be a SaaS company, which stands for software-as-a-service. This allows software providers the flexibility to charge you a minimal fee per month to use the software. With Rentopian, there are no up-front costs and it is a month-to-month contract with the flexibility to cancel at any time without acquiring any fees. With desktop software, you'd typically need to pay a one-time licensing fee in order to get started with the software, and would likely need to pay a monthly or annual fee for maintenance or support. The up-front cost for desktop software is usually unattainable for new or smaller event rental companies. With larger event rental companies, the expense may be even greater depending on the number of employees using the software and would make for a difficult transition period and learning curve. Event rental companies may not want to make such a significant up-front investment in desktop software. 

Reduced Expenses

Cloud-based software companies handle all of the server expenses that are required to run your business. By eliminating the need for data centers, servers, hardware, facilities, utilities, and other hidden expenses that may come with using desktop software, you significantly reduce your cost without impacting your IT capabilities or software functionality. In addition, the number of staff that you'd need to set up and maintain a desktop software is eliminated, saving you quite a chunk of monthly payroll expenses.

User Accessibility

Your data and account information is available from any device, at any time- no matter where you are in the world. This is a huge benefit for event rental professionals due to the flexibility you have with being able to access orders, clients, and more on your tablet or smartphone while you're actually on your way to set up the event and while you're on location.

Increased Team Collaboration

Cloud applications allow your team to collaborate and easily share information regarding orders and events in real-time. Additionally, the access they have to shared storage allows them to provide your event rental clients with a fast and accurate customer service experience. Teams are able to do more together, and do it better!

Reduced Errors

In the event rental industry, a mistake in inventory counts or availability can result in a negative experience for your client and a last-minute scramble for you to make things right. Cloud-based event rental inventory management reduces, if not completely eliminates, issues that would otherwise arise from inevitable human error. With cloud-based software, every user and client gets up-to-date information instantly, without any risk of missed quote requests, emails, payment requests, or contract signatures- saving everyone time and money.

Safety and Security

With desktop software, when a server fails or a hacker gains access to your data and attempts to steal or delete it, you can lose data which will result in a loss of time, revenue, and distrust when dealing with clients. However, cloud networks keep data in at least 3 different locations. If for any reason, a server failure occurs, the data is copied on the other servers- making is seemingly impossible to lose important information. Also, data encryption is a key factor in data security. Users are able to use their passwords to access the software and files. Since the user's password is encrypted, it would be extremely difficult for a hacker to gain access. 

Website Integration

Cloud-based software makes it easy to seamlessly connect your event rental website to the software. You'll have the ability to display your inventory, images, and additional information beautifully on your website. Any time a change is made in the software, such as adding new inventory items, changing an image, etc., the website will automatically reflect the changes. The real-time synchronization between your website and software will show clients whether the inventory items in their checkout cart are available for their selected event dates or not. Additionally, clients can place a direct order on your website which will come into your software with all of the selected inventory and required information such as the client's info, billing and delivery details, day-of-event info, and more.

Online Payments and Signatures

With cloud software, the direct integration with online payment and e-signature providers allows for instant updates and easy accessibility into who signed, paid, and confirmed their quotes or orders. The signatory information and date/time stamp are reflected in the software instantly, which makes it easy for you to quickly understand the next steps needed to complete the quote or order. When it comes to payment requests, you can simply request an order deposit or full payment with an emailed link to your client so they can pay right away. The seamless integrations with payments, contracts, and orders help you reserve more orders and get paid faster.
Any one of the benefits of cloud-based software listed above may be enough to convince many event rental businesses to transition into the cloud. With Rentopian's cloud-based event rental management software, you're able to improve productivity, lower costs, and create a more efficient and safe environment for your event rental business to thrive.
For more information or to get a free demo to see all of the benefits in action, please click here or email [email protected].