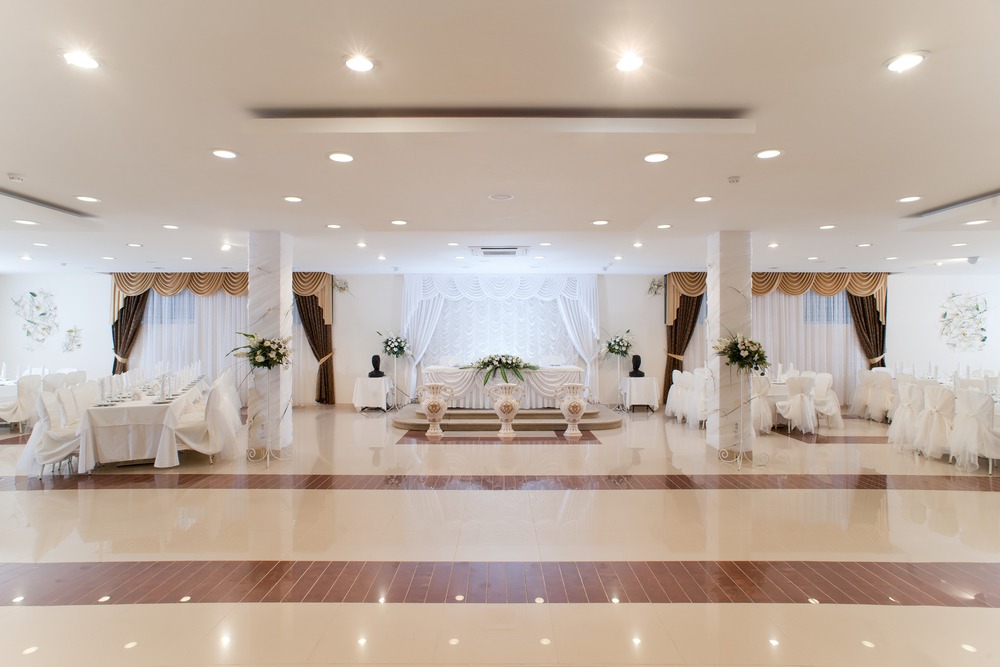 Whether you're an event rental company owner/operator who manages a single warehouse location or a large corporation that owns several warehouses, expanding into different locations allows you to service more clients and in turn, increase your revenues. However, it's very important to make sure your rental inventory is being efficiently managed when you have multiple locations to maintain. It can become challenging to move items from one location or warehouse to another if they're in close proximity given the investment required for renting a truck. Not only that, but accurately accounting for rental inventory can be quite confusing when there are several locations with many employees working in the location and making sure inventory items end up in the correct space every single time. 
The first challenge an event rental business faces in a multi-location setting is having detailed information about each location, like seeing exactly what is going on at any given time with accounting, customer relations, inventory management, or sales data. The detailed information from all locations needs to be accessible from one single location for admins or owners/managers of the company. 
Tracking finances for all locations is a vital part of any business, but when you're in the midst of operating multiple locations this task can become even more challenging. What it comes down to is needing reports that offer both multi-location statistics and the ability to compare the overall performance of different areas. With a manual approach, reporting and analyzing the data for different locations can take hours. Rentopian is the only true multi-location event rental software in the industry that helps you easily manage and consolidate multi-location details and stats in one place to save you time, effort, and stress!
User Access and Permissions 
A challenge many event rental owners may face when managing multiple rental locations is how to designate location-specific account access for each of the team members working at these locations. While this might not be a large concern for core operations and main employees, it can be very important for remote vendors to not see all the inventory and assets from all of their accounts through one central system, but rather by specific locations they're working with on any given day. This allows your employees to focus on running their daily tasks efficiently and more accurately by knowing which items are stored in the location they're currently working with without becoming lost or confused about which assets belong where while doing so. 
Additionally, it is important for a CEO or a member of a company's management to have the ability to run reports so that the organization as a whole understands how well its overall operations have been going. It is imperative to control access levels based on roles and locations so that only the people who need the information can get it – while others may be blocked from certain resources altogether. Adding users at multiple locations should mean that any manager responsible for overseeing their organization's reporting will have an easier time keeping track of what resources are being utilized by specific users at all times. Additionally, with many users working across the system from multiple locations, it's important to track each user's activity. Rentopian provides an extensive user log that shows all of the actions taken by each user from any location.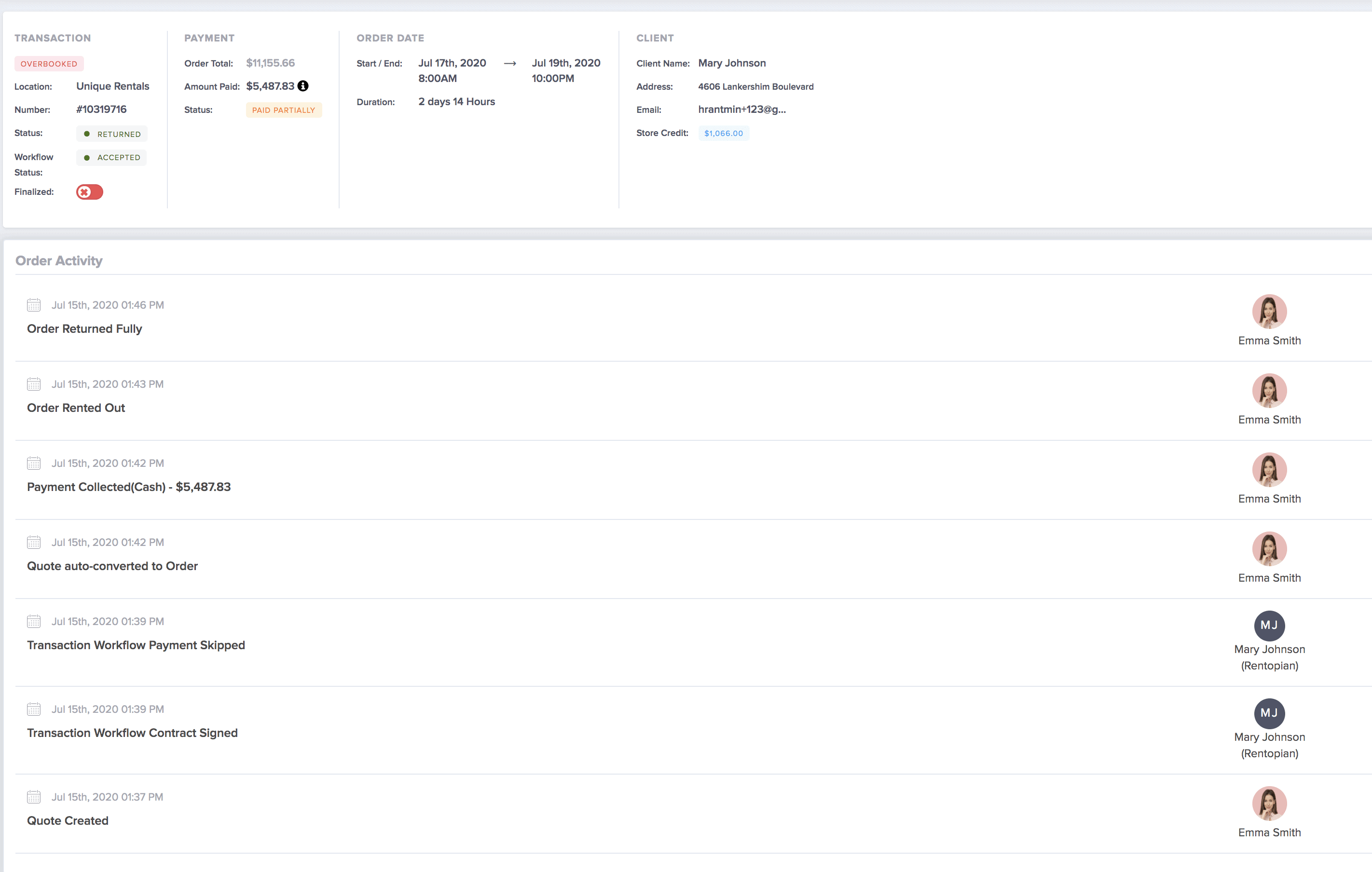 Inventory Availability 
The main reason event rental company owners would benefit from using Rentopian rental software is that it helps them manage their inventory more effectively. The software enables users to check the inventory before creating an event with their customers (the rental quotes, orders, or reservations) because they can filter inventory based on the location where the equipment is stored. You may also use Rentopian's real-time calendar to organize your equipment by location.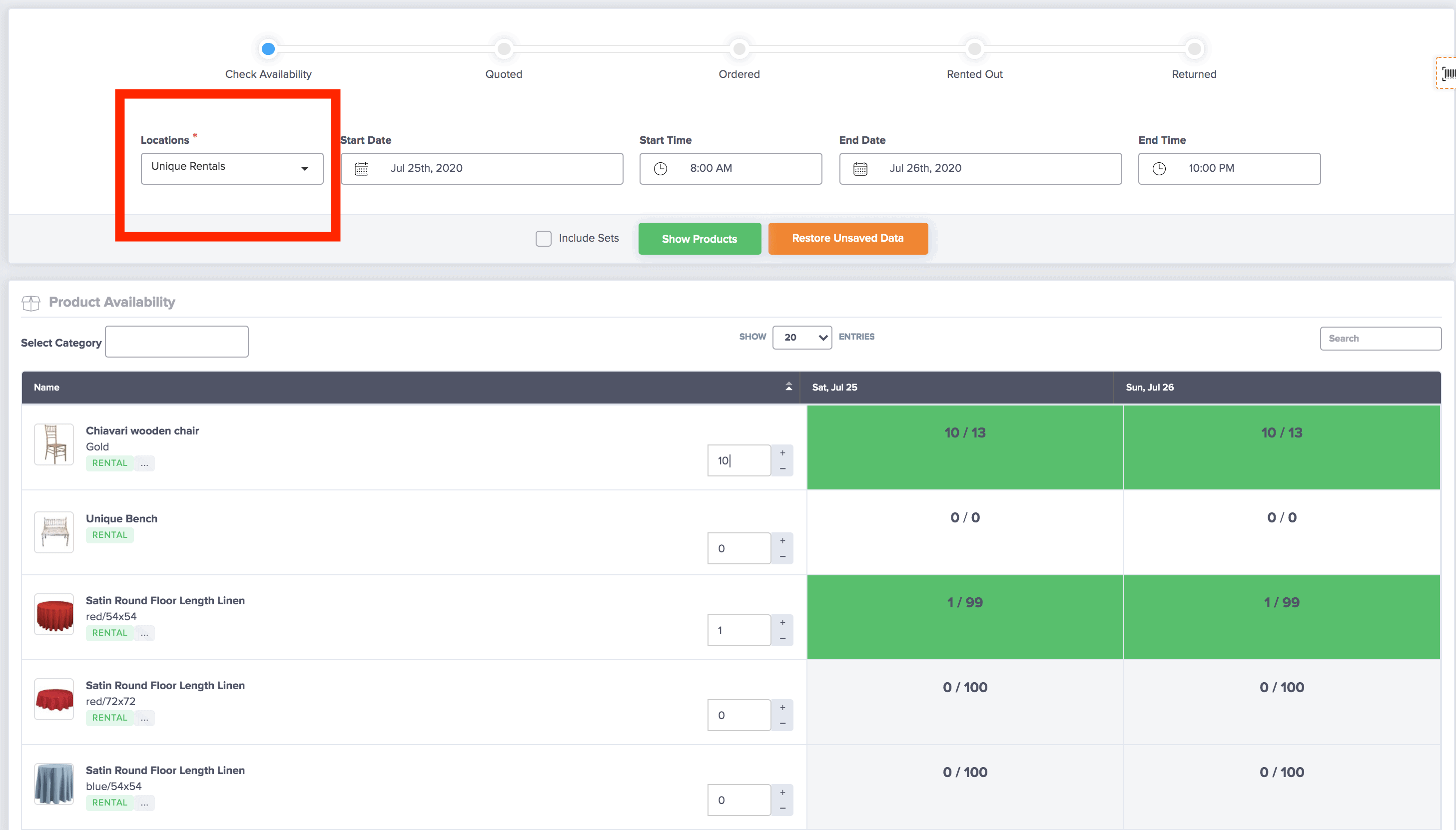 Warehouse Operations
When preparing for an event, some of the documents your event rental management software generates should list the location of inventory items and define how many you need to be picked, packed, and delivered. These documents should show the location of where you keep your inventory so that it's readily apparent to anyone who may need to collect all of the items needed from various locations. Once an order is returned, the software will automatically return the individual inventory items back to your available inventory counts. Even if the items in the order came from different locations, the system will notify you of the correct location they need to be returned to, rather than having employees trying to piece together what belongs where.
Flexible Settings
With a true multi-location software platform, account settings MUST have flexibility. With Rentopian, for example, each location can have different payment providers, different state/city tax rates, and more. For example, a multi-location company operating in New York and New Jersey will have different tax collection settings for each location because the default tax rates will be different in NY compared to NJ. Each location in every state, and even county/city, has different requirements that need to be considered with your event rental software.
Final Thoughts 
​​Although some event rental softwares may seem to offer multi-location support, make sure to check with vendors carefully to ensure that it's not actually placing a field onto your product listing and listing the location there. A true, multi-location capable event rental software like Rentopian will assign users, inventory, drivers, clients, orders, quotes, sets, vendors, and more to each location while giving you the flexibility to pull inventory or staff from another location. Also, it is important to track the financial health of each location within your business so all relevant reporting should be filtered by location.
If you're currently using a "multi-location" event rental software that doesn't actually do what true multi-location functionality is supposed to look like when it comes to running an effective, successful multi-location business, contact us! We'd love to show you ours and offer you to try it without any charge for two weeks (no credit card required!).