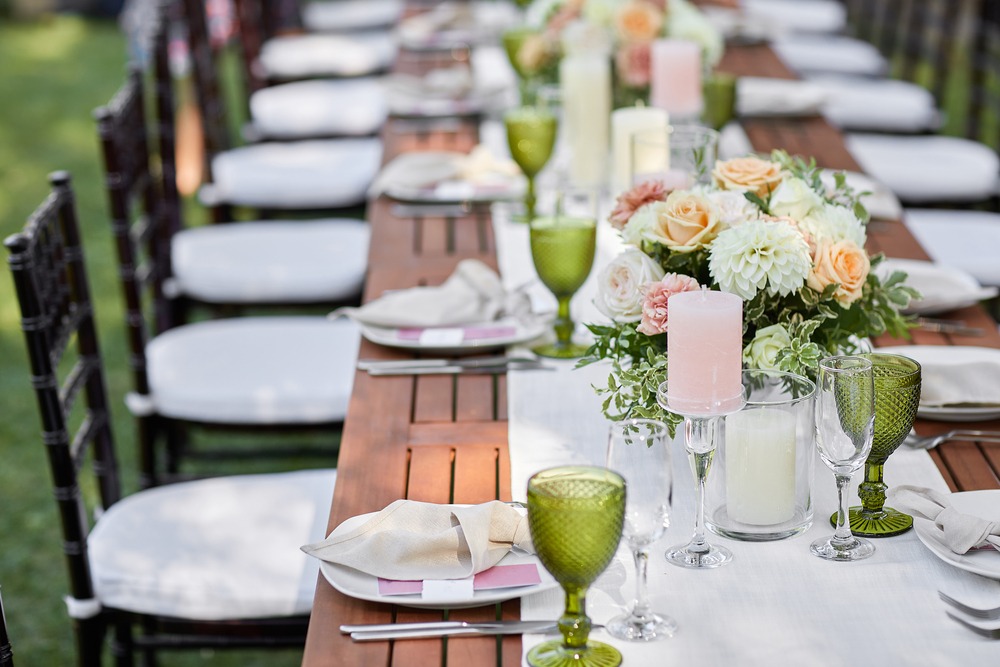 You are probably aware of the many benefits that event rental businesses can bring to any market. Indeed, time and again rental businesses have proven themselves a valuable part of the community. These businesses are extremely popular and easy to set up, but success is not guaranteed just because you have a good idea.
Whether you've just opened up an event rental company or are considering updating pricing for your existing event rental inventory, there are a few things you should consider before settling on the rental rate for your event rental inventory. Pricing isn't an exact science. Businesses have many factors to consider when setting their pricing: including industry, region, and business goals. Let's look into some of the pricing strategies and models for event rentals.
Traditional Pricing
Event and party rental companies using the "traditional" cost per item method can incur significant losses when they have to rent a high quantity of items. In traditional commerce, the more that you buy, the lower it's priced. For example, when purchasing cross-back chairs from a vendor, each chair may cost $30 if you purchase up to 100 chairs, then it'll cost $27 for quantities of $100 more, then $25 for 200 or more, and so forth. 
However, event and party rental companies need to steer away from the traditional cost per item model for a variety of reasons. The time and resources needed to pack, deliver, set up, pickup, clean and sanitize, and store event rentals for 10 people for a dinner party compared to 100 people for a wedding are not the same. Setting up storage space and having the inventory available for customers to rent is expensive. And then figuring out how to store all your equipment, and getting it ready and delivered at the right time is another big cost. The cost of providing rentals for each event is different, and you must consider the additional labor and operating costs associated with larger events. 
Utilization and Profit Margins
The event rental industry is riddled with entry-level pricing errors. Pricing approaches such as lowballing to gain clients or charging high prices to pay for unnecessary expenses are ineffective. The biggest mistake you can make is pricing yourself too low. Because if you aren't making a profit, you are creating a hole you can't crawl out of. The profit margin for an event rental company operating outside of the peak season (May thru September) should be a minimum of 20 percent. 
Rentopian, the all-in-one event rental software helps event rental company owners maximize profitability and improve their cash flow by guiding them through the process of pricing their products and services correctly―and making sure their prices are easy for customers to understand. Through a variety of tools and reports, event rental company owners can understand where they stand with their finances. More importantly, they reduce the risk of under-pricing tremendously, which helps to ensure event rental business owners succeed in building profitable businesses they can be proud of.
Using Rentopian's Utilization Report, you're able to see which individual inventory items have the most usage compared to others- meaning, which products are rented out the most. In the example below, Rentopian event rental software pulls data to show you exactly that. A glance will tell the event rental software user that in a period of 1 month, the "Unique Bench" inventory item was rented out over 11.55% of the entire month. Compared to all other products that were rented out, it has one of the highest time utilizations. However, the income is on the lower end.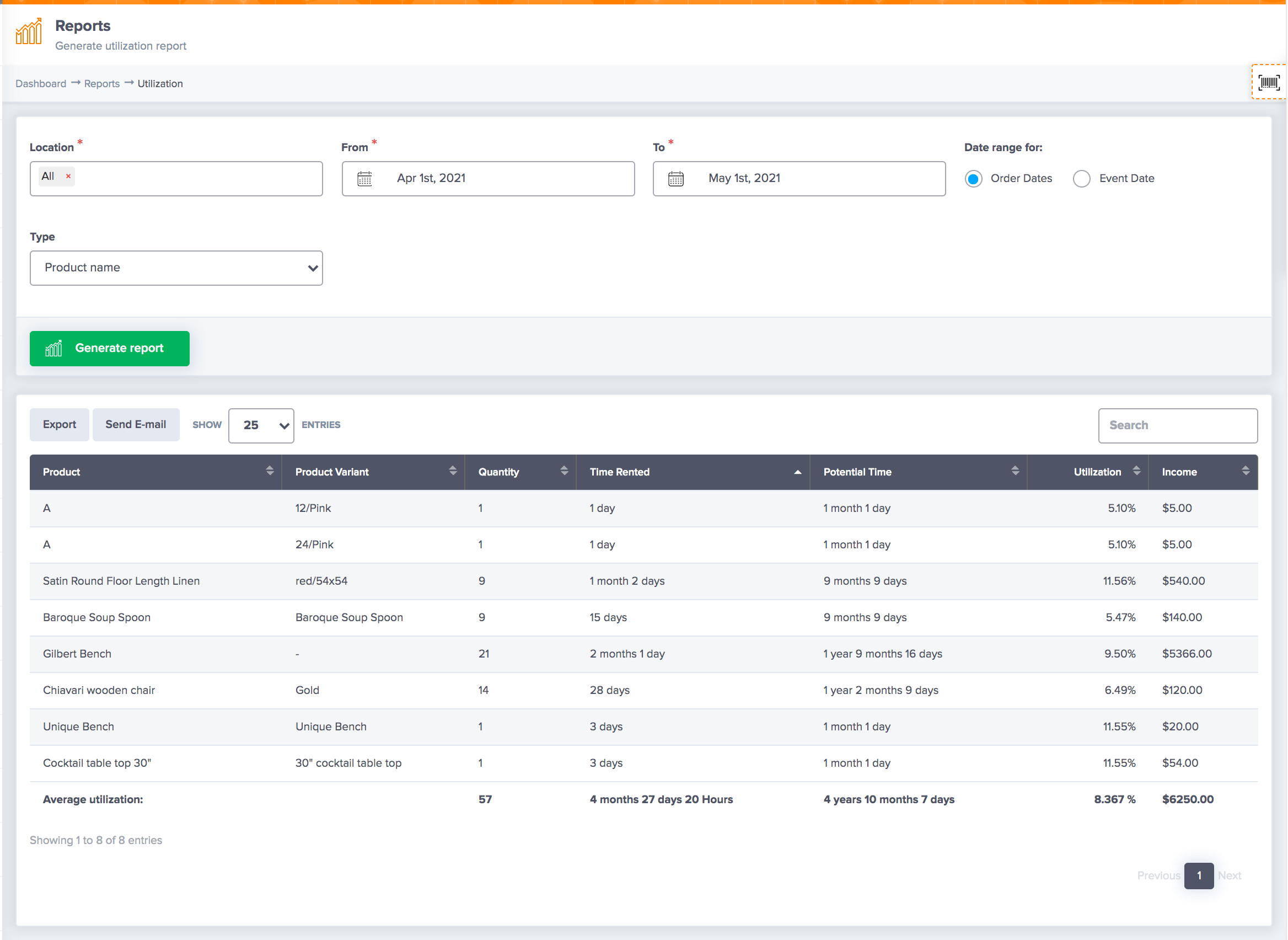 Using analytics, you can potentially reduce wasted product use, and keep your customers happier. Do a simple analysis of your inventory to find out who's over/underusing products and adjust prices in line with it. If you find that certain items have a higher "Time Rented" number compared to the rest of your collection but lower than the average income total, you may realize that you have more wiggle room to increase pricing. 
On the other hand, if you have an inventory item that doesn't get rented out much but has a high income total, you may want to consider lowering the rental rate as a tactic to get more clients to rent it out. Otherwise, keep its pricing stable but be creative in how you showcase and market that product online (website, social media, email newsletters), and even in your showroom to draw more attention to it. 
Pricing Strategies
Bundled Sets: By grouping multiple inventory items and setting an assigned price, clients typically assume that it's a better price than if they were to rent each item out individually. However, it's essentially a psychological pricing hack to make the client decide to book much easier and for you to upsell without employing any sales tactics.

The 'Sets' feature allows you to turn specific items into a group and apply special pricing for those sets. Grouping is helpful when you need to offer one price for multiple different inventory items. Also, the number of sets available will be based on the available quantities of the individual inventory items.

Disguised Fees: For many companies, creating a "hidden" fee or cost is the best way to get their clients to feel like they are getting a better deal–that they're not paying as much. For example, if you offer free delivery for orders over $1,000, the cost of the delivery should be hidden in your inventory pricing. Or, if you charge 10 cents for each napkin fold but are constantly getting pushback from clients for the extra line item on their invoice, simply tack on an extra 10 cents to each napkin's rental rate. This method makes it easier to pass off legitimate expenses to the client since most people, in general, don't like paying for "extras". 
Know your Market: Just as there is a standard cost of living in different cities, event rental companies may charge varying rates depending on where they work. Sometimes, the cost of living is different even within a city or town. For example, a Los Angeles-based event rental company may cater to the entire LA area. However, there are different demographic groups and communities within the area. A bride and groom getting married at the Four Seasons Hotel in Beverly Hills may be less price-conscious than a married couple who is planning a birthday bash for one of their 3 children in a suburb in LA. 
Remember that costs and prices are always relative. The specific words you choose to describe the product's price are going to be influenced by the kind of person you think will ultimately be interested in your rental products. If you think someone is more cost-conscious or focused on finding a bargain, or building value for their money, then we may describe certain price points as being a "bargain" or "steal." On the contrary, the purchase decisions of more financially flexible clients will be made on the value features of your event rental company's products and services. These types of clients are more likely to prioritize the time they'll save by ordering all of their event rentals from you, rather than spending time shopping around to save a bit of money. Essentially, the goal is to understand your market and give them exactly what they need, for prices they're willing to pay. For a free demo and 2-week trial of Rentopian, the all-in-one event rental software, please contact us!