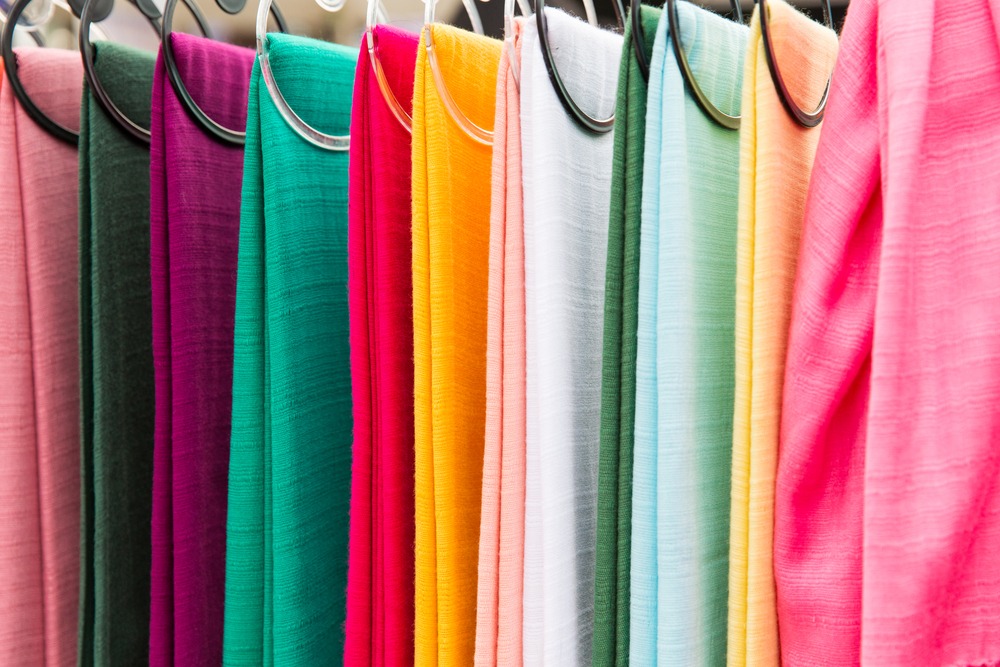 The world of linen rentals is complex. For many years, linen rental services primarily focused on providing plain tablecloths for conventions and other events where organizers needed something to place food or centerpieces on. Today, however, there are many options available that accommodate various purposes and color schemes – so no one has to settle for basic and monochromatic tablecloth setups anymore.
When you need to get your linen rental inventory organized, you need software that works with you. To help you manage hundreds (if not thousands!) of linen rentals, Rentopian is the most user-friendly linen rental software that allows you to easily sort and filter your inventory and all related information.
When playing with linen rentals, a little layering and mixing can make a big difference in how a tablescape will look. Adding some sequined runners on top of satin tablecloths makes a lovely statement, or folding patterned napkins into different shapes adds something unique to your table settings. Sounds simple, yes, but it gives the whole place an impressive look!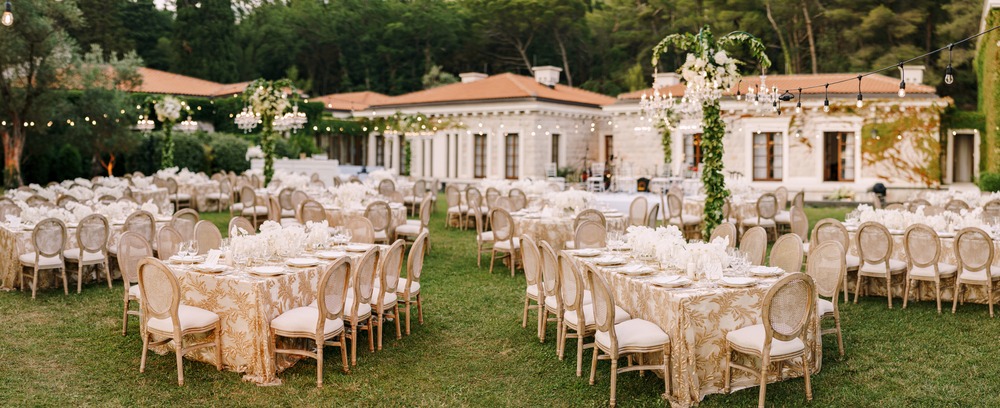 We'll take you through a high-level process of organizing and importing your linen products into Rentopian, the all-in-one linen rental management software. 
First, it's important to categorize your linen into possible attribute categories. For example, you may want to categorize by type first, then color, then fabric, etc. 
Type: Tablecloth, napkin, overlay, chair cover, chair sash, runner, and more. 
Fabric: Silk, taffeta, satin, lace, velvet, cotton, sequin, polyester, embellished, damask, organza..and much more.
Color or Pattern: the combination of colors, patterns, and colored patterns are endless
Size: from 84" square to 120" round, to 8' banquet table.
While Rentopian's linen rental management software is designed to make managing variations of your products easier, your inventory doesn't need to be limited to a single product! You can add more variations too (and edit them in bulk!)
Fabric: silk, organza 
Color: ivory, white, blush 
Size: 84″ Square, 120″ Round, 134″ Round
In a typical event rental inventory software, if you wanted to create this combination of products, you would have to create 18 individual listings for the product variants. In Rentopian event and linen rental software, you can create this collection of inventory items in under 1 minute. Let's start by creating our tablecloths. First, we'll enter the options, then the different values for each option. Once you're done creating your options and values, you can save and add as many product variants into your inventory as needed.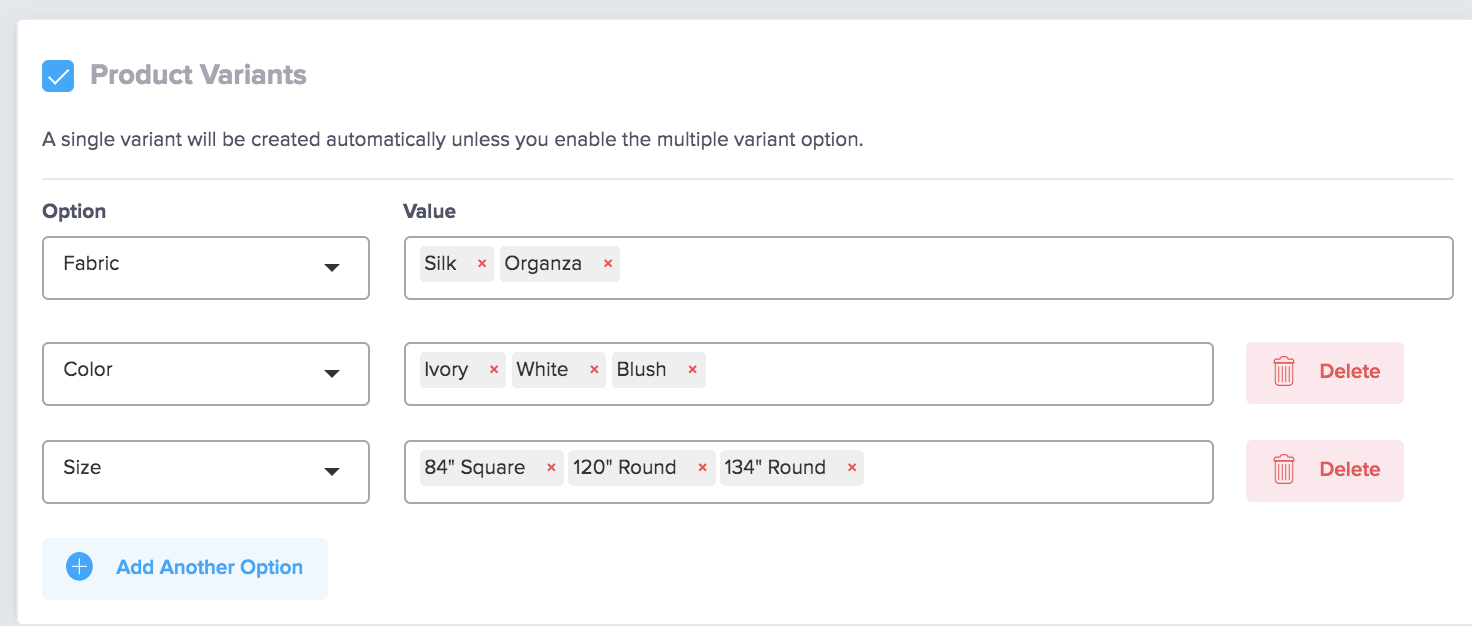 The idea is to create 1 main listing with the information of the product and its variants listed beneath. Currently, you can enter all of your product information in one generic page and then navigate to a new page where you can enter the exact price and quantity information for different variations. Instead of having the option to edit attributes for each variation one by one, Rentopian allows you to edit the attributes all at once. Additional adjustments to price or quantity can be made for each variant- separately and at any given time. This helps take care of how one's pricing or inventory quantities might vary based on certain attributes.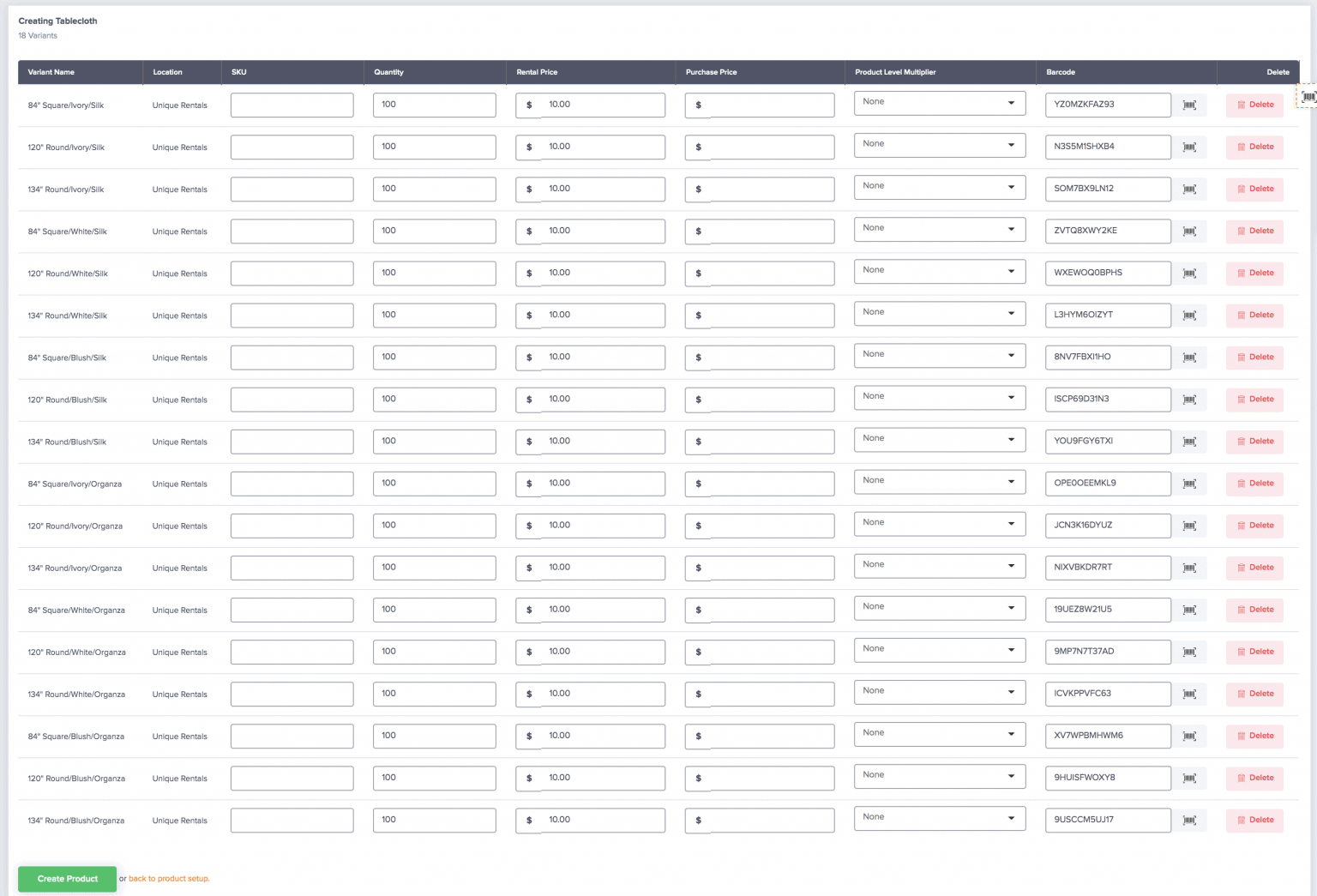 Storing Linen Rental Inventory
To optimize storage space, store clothing racks of linens by color and then by size. Separate sizes out with signs and make your most frequently rented or popular items easily accessible to your staff working the warehouse. Use open-sided hangers that allow larger items to hang freely instead of folding in the middle or bunching up. To ensure a high quality-linen experience, wrap the linen in clear, protective garment bags, and hang. When using Rentopian's barcode generator to print out barcodes on the spot, they can easily be affixed directly onto the garment bags or linen products themselves and be easily scanned out of the warehouse and back in upon the order return date. P.S. To add some branding to your garment bags, create inexpensive stickers and stick them to garment bags that are ready to head out to the client's event. 
Damaged Linens Upon Order Return 
When there are red wine stains, candle wax drippings, and the wedding dance floor is filled with guests, sometimes the unavoidable happens. Damaged linens occur in all sectors of the party business. Inventory management is a logistical puzzle but with Rentopian's inventory tracking, the hard parts are done for you. When you're checking an order back into the warehouse for return, it's important to review which linens are damaged but can be repaired, or if they're completely unrepairable/lost with the need to be replaced. Once that's marked on the order return screen, Rentopian's intuitive inventory management module will automatically deduct the number of damaged linens from availability in inventory to prevent any overbookings for future orders.
WordPress Plug-in + Website Sync
Rentopian's plugin is able to communicate with your WordPress website and add inventory details, pictures, information, and more to your site. The Rentopian plugin is a highly specialized tool that helps streamline communication between the inventory in the system and your website. With so many moving parts in the linen rental business, it's important for all aspects of your operations to be able to communicate with one another at a fast pace. This functionality allows for greater flexibility and efficiency in managing orders, inventory, and website content. Also, because each variant can have its own default image and even main description information, once the website visitor selects the different attributes (size, texture, color, etc.) the WordPress plug-in brings up the corresponding default image so the client can see exactly what the product will look like.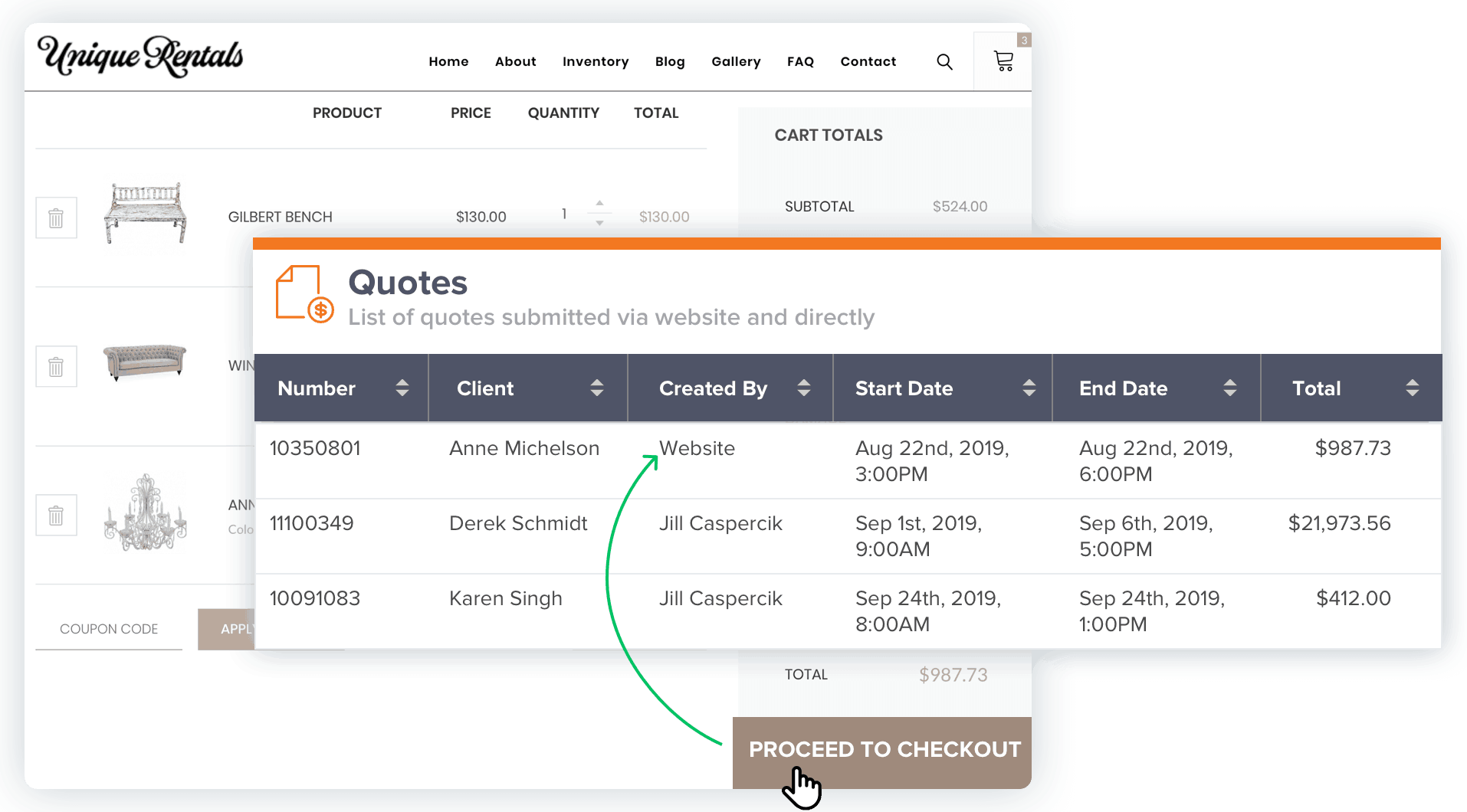 Final Thoughts 
Utilizing software that will keep track of your inventory records will save you time and resources. Additionally, knowing how many linens you have in any given size, color, or fabric will eliminate the need to frequently re-count them when clients are requesting quotes. If a client is considering renting from your linen rental company and they're asking for details regarding availability then it is possible that you may lose their business because they may just go ahead and rent from another rental company that was able to get back to their inquiry much faster, because they were using event rental inventory software like Rentopian. To improve the accuracy in even more of your interactions with clients, you're able to generate barcode labels for each product and use handheld scanners to input order information quickly into your normal workflow; this process facilitates packing orders, delivery schedules, and order returns.
Having to manually manage hundreds or thousands of different linen items is made significantly easier with the help of a software system like Rentopian. There are many challenges involved in maintaining an inventory for your linen rental business, it is important to invest in a dependable program that will not only make things more efficient but also help streamline even the most complicated processes when it comes down to safeguarding any given business' main investment. You can access the inventory at any time from any place or device through our simple and intuitive interface. 
With a web integration that manages to seamlessly sync up with your linen inventory so that people searching for something will see the updated item in real-time, barcode scanning which makes check-in and check-out for renters and your employees easier than ever, Rentopian is the perfect interface for managing all aspects of linen rentals. Get in touch with us to schedule a 1:1 personalized demo and receive a 2-week trial of Rentopian.