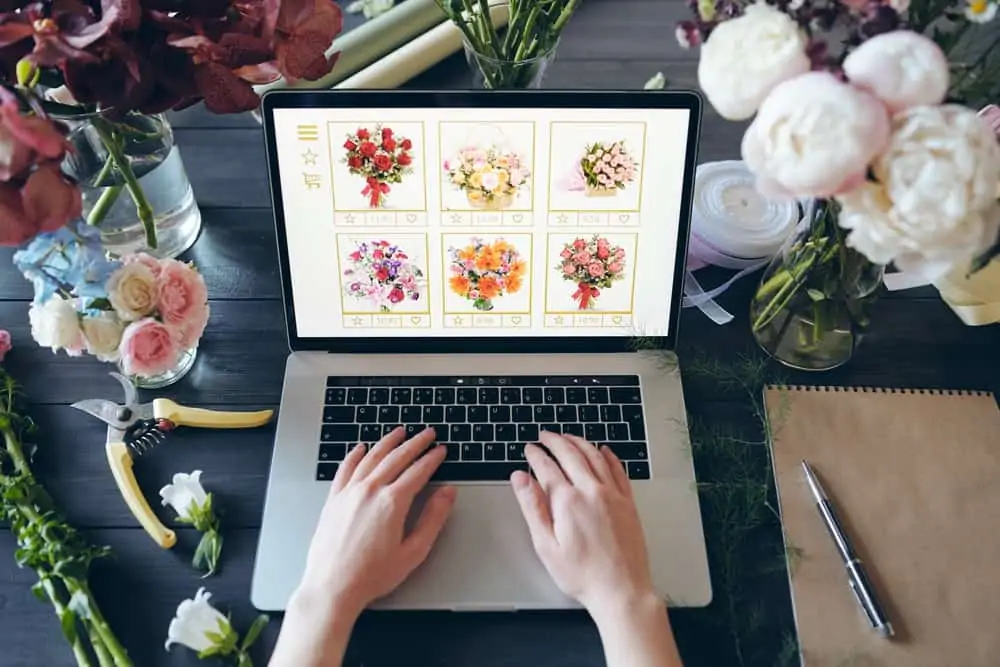 Running an event rental company requires the use of many different tools in order to manage every aspect of your business. Not only do you need to keep track of where your inventory is located and communicate with clients, but you also have to constantly send out emails asking for payments on outstanding invoices as well as making sure that each task that needs to be completed gets done by following up on each person's job list. Not having systems or tools in place will make it more difficult for you to remember what needs to get done, who needs to do it, how much inventory you have on hand for a given day, and more.
With so many useful online resources available, you'd be missing out on quite a few opportunities if you didn't make the leap. This past year alone is a great example of this as we have seen our economy and society become even more dependent on technology than ever before. While making the switch to virtual platforms or softwares may seem hard or daunting at first, here are some areas of your event rental business that are ready for change and could dramatically improve your workflow and bring about overall improvements like saving time, streamlining processes, increasing productivity, and cutting costs!
Instant Inventory Availability
If you're running a small event rental business or even a large one, you know how hard it can be to effectively manage your inventory. You don't want to have more products in stock than are necessary, as that can eat into valuable resources, like a pricey lease for warehouse space that isn't being maximized to its full potential, or the cost of employees needed to maintain the inventory items. And you definitely don't want to run out of something without having something else to take its place! Rentopian offers an all-in-one event rental inventory management system that allows businesses to monitor rented inventory levels in real-time and ensure that their events run smoothly. For example, if a certain item is reserved on your site, you'll know exactly how much product you have left at hand. This comes in handy when any order is confirmed or when pre-sales or reservations happen. It's practically impossible for double-booking to occur.
Our inventory management software alerts you to any overbooking that needs attending to. The more organized you are about your inventory management, the easier it will be to avoid incurring additional costs to subrent or purchase inventory last minute as a result of promising your client a certain inventory item will be available on the day of their event.
Additionally, responding to a client quickly when they've asked for a quote will significantly decrease the likelihood of them receiving competing quotes and renting from elsewhere. By using an event rental software as an accurate method to track inventory in real-time, your clients will be able to better rely on you when it comes time to choose who to rent from.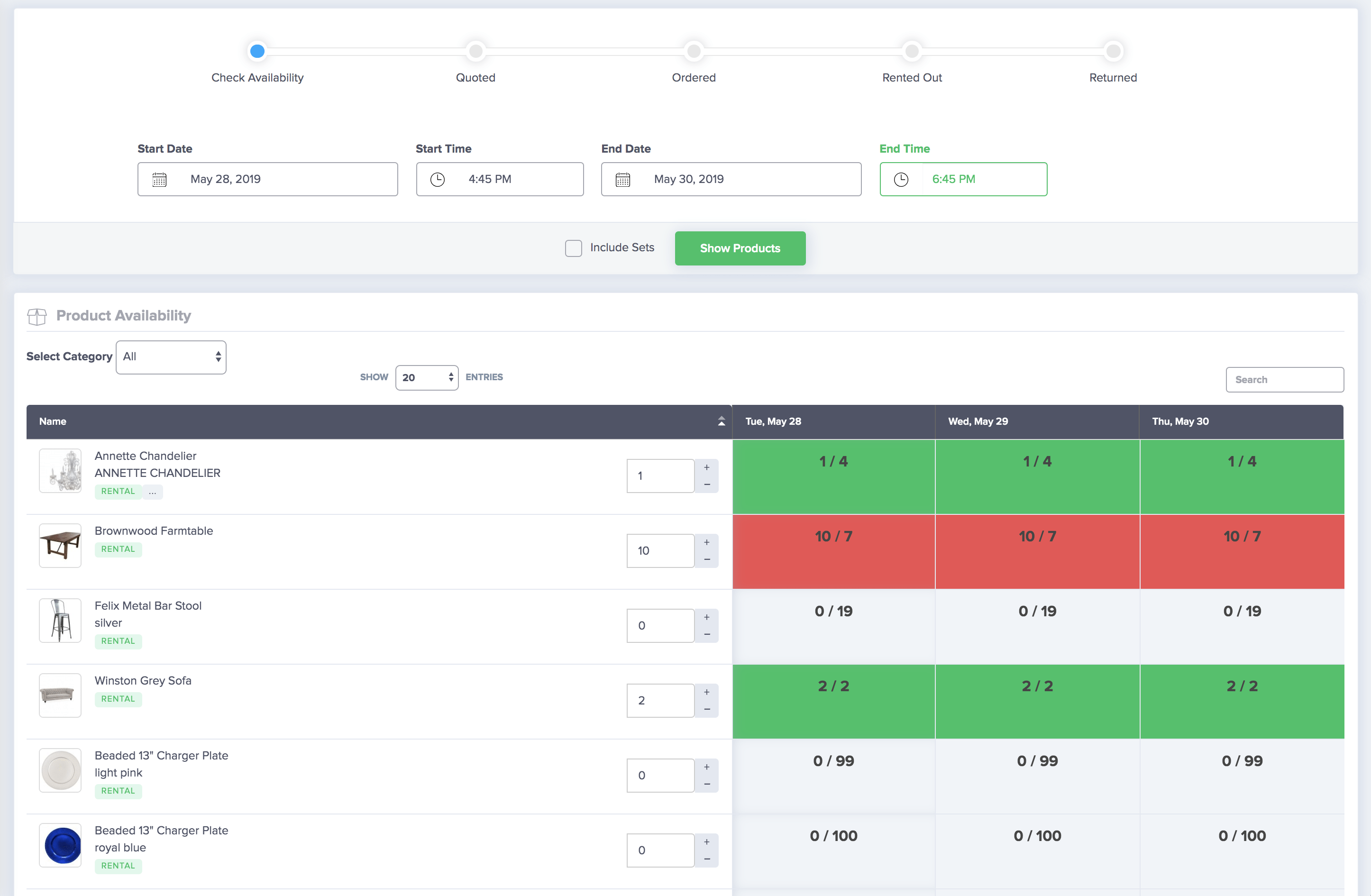 Workflow Wizard
Open template, enter client details and order details, save, draft message, attach PDF, send. Is this what your current quote/order creation process looks like? Bringing an end to the PDF emails you send out can be tough. Unfortunately, there's no way around having to use them for each and every quotation unless Rentopian's services are put into use. 
When it comes to booking orders, there are better options that could come in handy. Using Rentopian's, the quotes you send are a lot more organized and because of this, your clients will receive only one email, instead of the usual barrage of them. Via a designated online link, they can digitally sign the contract and make an online payment within minutes – which is facilitated by a simple workflow where they can review, sign and make payments with ease!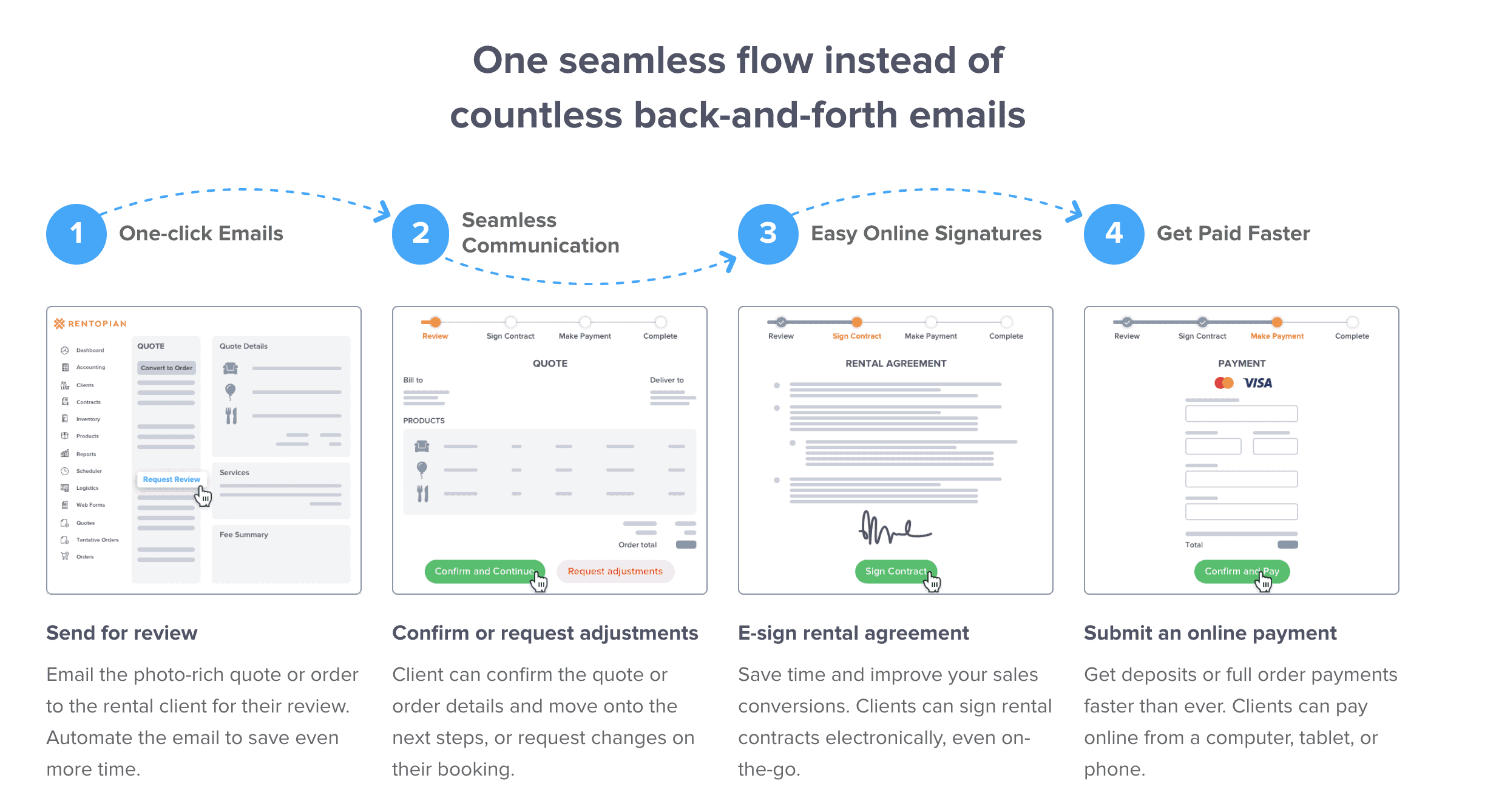 Online Payments
Accepting payments online is crucial for many businesses. By using the right tools, it's easy to avoid difficulties and headaches that can come out of having to handle all of your transactions yourself. Automating email reminders to customers about overdue invoices not only keeps up client communication but also allows businesses more time to concentrate on other important aspects of their business!
Provided the payment schedule settings is set up in advance within your Rentopian account, or based on your regular processes, you could always choose to ask for a deposit of a certain percentage of the order total, at least X number of days before the client's event date. Or you could choose to have clients pay the full balance before reserving any inventory. Rentopian event rental management software automatically sends payment reminders so that clients get a reminder that invoices are pending without having to be continuously contacted by your team about it. 
Rentopian integrates with several online payment gateway providers to make it easier for you to collect payments. This includes Stripe, Square, PayJunction, and Aauthorize.net. For example, if you'd like a client to pay for their quote right away before converting it to an order that will reserve your inventory, you can request payment with an emailed link that will take them directly to a secure site where they can complete the requested action.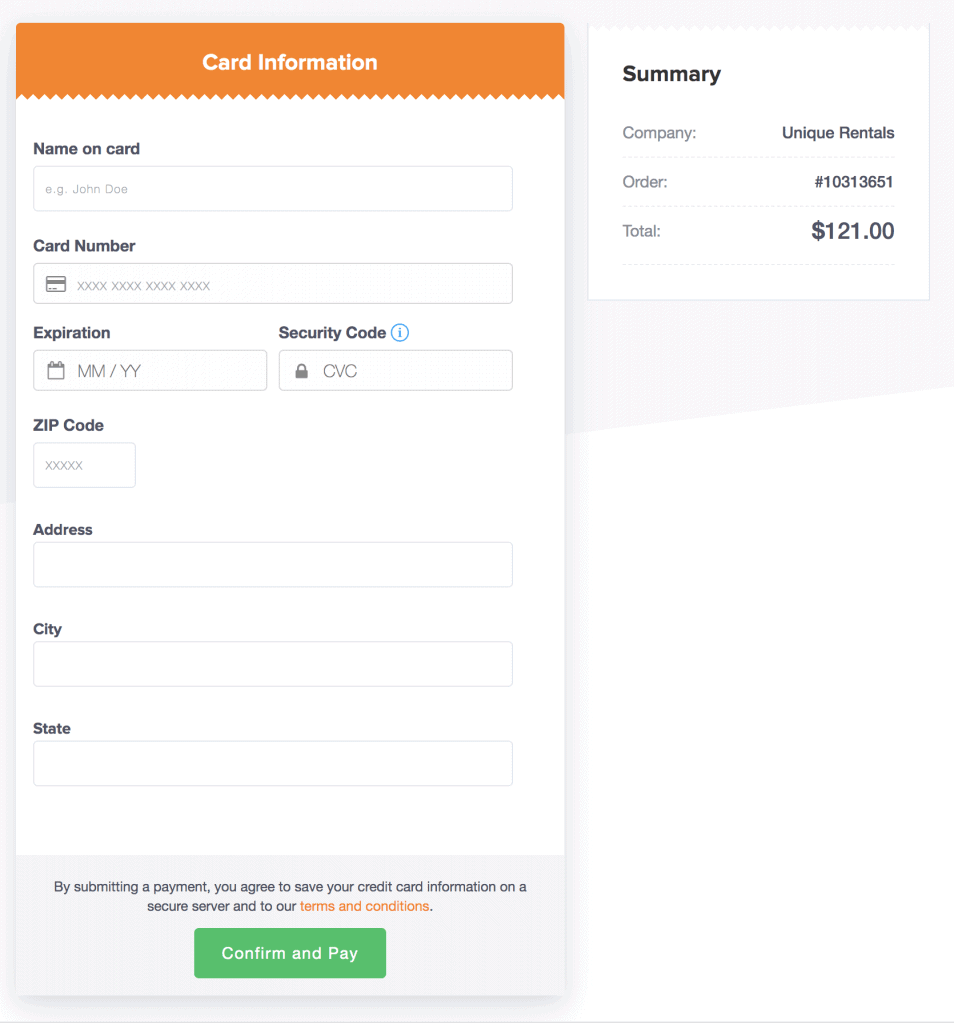 By using an event rental software solution like Rentopian, you will reduce human error and increase productivity for your event rental company by streamlining all of your processes on one platform. Using Rentopian allows you to employ a number of actionable features such as automated inventory management, order bookings, and billing processing. To learn more about how we can help you make your rental business more digital, contact us today for a free demo and a 2-week trial.