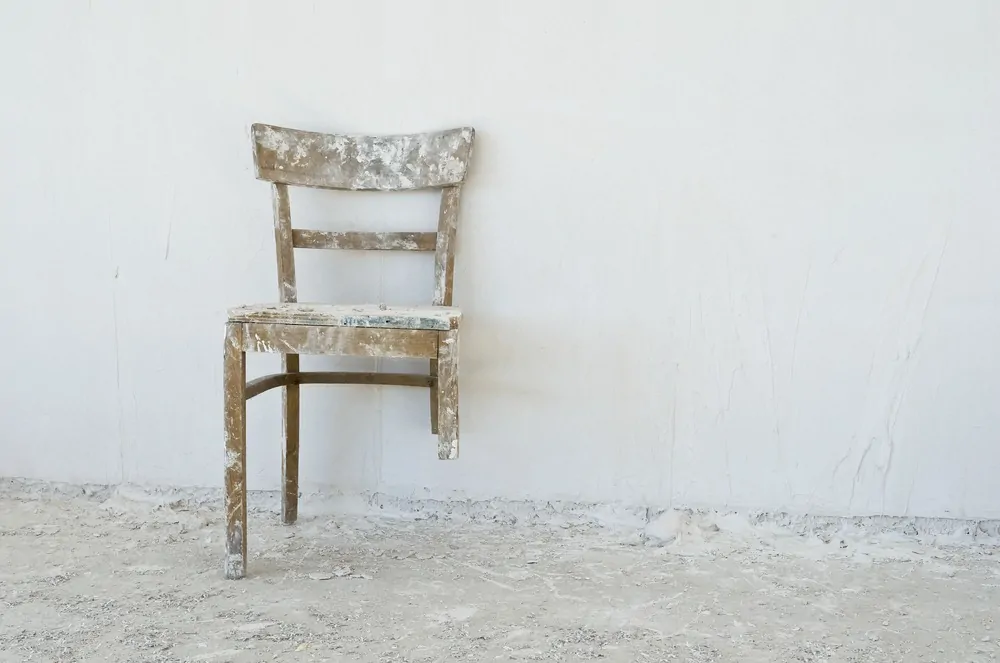 Damages are inevitable in any event rental business- whether it's a red wine stain on a gorgeous white linen settee, a shattered dinner plate, or hardened candle wax on a tablecloth.
While it's important to implement damage policies in your event rental contract, it's essential to have the proper automation in place that prevents you from spending extra time to apply those policies on any rental quotes or orders that you create. Find out the aspects to consider within your damage policy, and how to automate those policies.
The first step to enforcing your damage policy is to ensure that clients are always aware of the damages that they are responsible for. To avoid any miscommunication or lengthy disputes, make sure that your rental contract includes language with specific damage clauses. Rentopian's integrations with DocuSign and DigiSigner allow you to send and receive signed contracts which are legally binding, and can work in your favor when it comes down to any disputes with the client and their bank. However, even with protective clauses in your rental contract, it's always a safe bet to include the total amount that your client will be responsible for paying if the inventory comes back damaged, unrepairable, or is lost. With each inventory item, you have the ability to input the damage fee and complete replacement cost of a product. Based on the products your client orders, Rentopian will automatically pull the damage and replacement fees you pre-set for each product and include it on the contract. This allows the client to see their potential costs upfront and it helps avoid negligence on their behalf, since they are well aware of their financial responsibilities if an order is returned with any damaged, lost or unrepairable products.
Each rental company's policies may differ on who is responsible for the damage. For example, is the client responsible for your inventory as soon as it's dropped off at the venue- even if it's a few days before their event? Or are they responsible for any damages that may arise during the actual event only? These are all important policies to consider and implement within your contract. Depending on these processes, you may want to document the state of your inventory once you or your delivery crew drops the order off and picks it up from the venue or event location. Additionally, advise your clients to let you know as soon as possible if they see any damaged inventory once they arrive on site or at the time of the event. They may choose to send you pictures or videos of the damage for you to have on file. Within Rentopian, you are then able to upload the evidence of the damage to the order as a way for you to remember that the damage was previously present and to not charge the client for any damage fees upon the order return.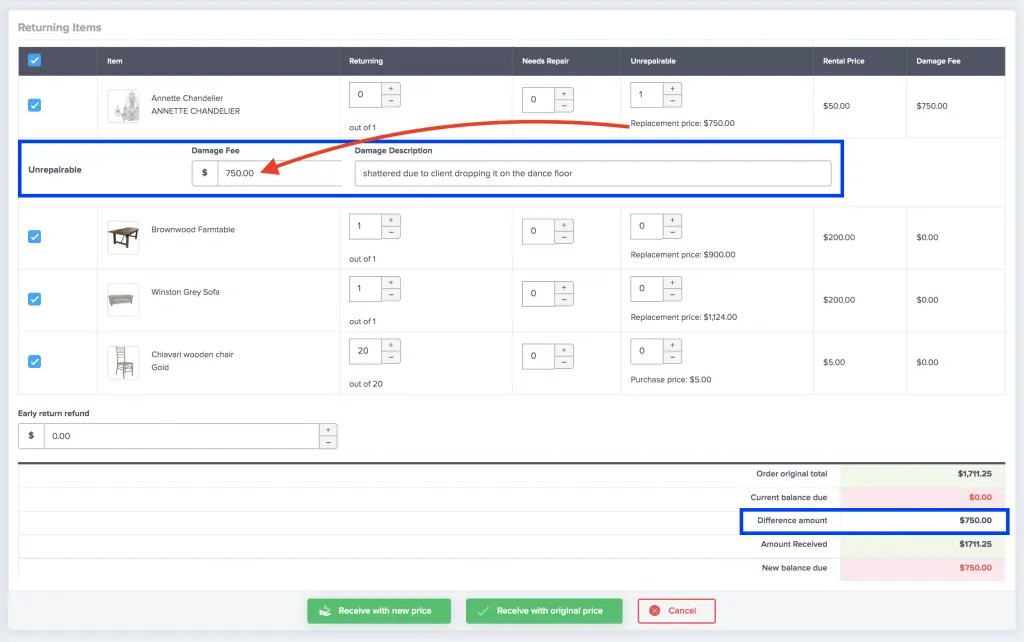 At the time that an order is being returned, you have the capability of marking whether a product was returned as either damaged, or unrepairable. If a product is returned as damaged, you may choose to apply a damage fee to the order total, and email the updated invoice with the difference amount. In the case that the client has paid with a credit card using our Stripe, Authorize, PayJunction, or Square integrations, you have the option of immediately charging the damage fees using previous credit card authorizations.
To prevent going back and forth with a client after the event has ended, you may choose to charge a Damage Waiver fee upfront. Typically, event rental companies charge 5 to 15% of the rental total. If an item is returned with damages, the client is essentially "forgiven" from paying any additional damage fees. Hopefully, the order will be returned without any damaged or missing items and you can consider the damage waiver fee as additional income.
Once an item is marked as "Damaged", it gets added to the Quarantine section which prevents it from being available to be rented out until you create a work order and either send it to a third-party vendor for repair, or repair it in-house. As soon as the inventory item is returned from being repaired, it will automatically be entered back into your inventory to be rented out. In the case that a product is unrepairable, cannot be replaced, or is completely lost, you must mark the inventory item as "Unrepairable/lost". Similar to the damage fee, the client will receive an updated invoice of the difference amount that includes the full replacement cost. The inventory item will be completely removed from your inventory. Using Rentopian's Future Utilization report and/or the Damaged Items report, you'll be able to stay on top of any inventory that you need to repair or replace.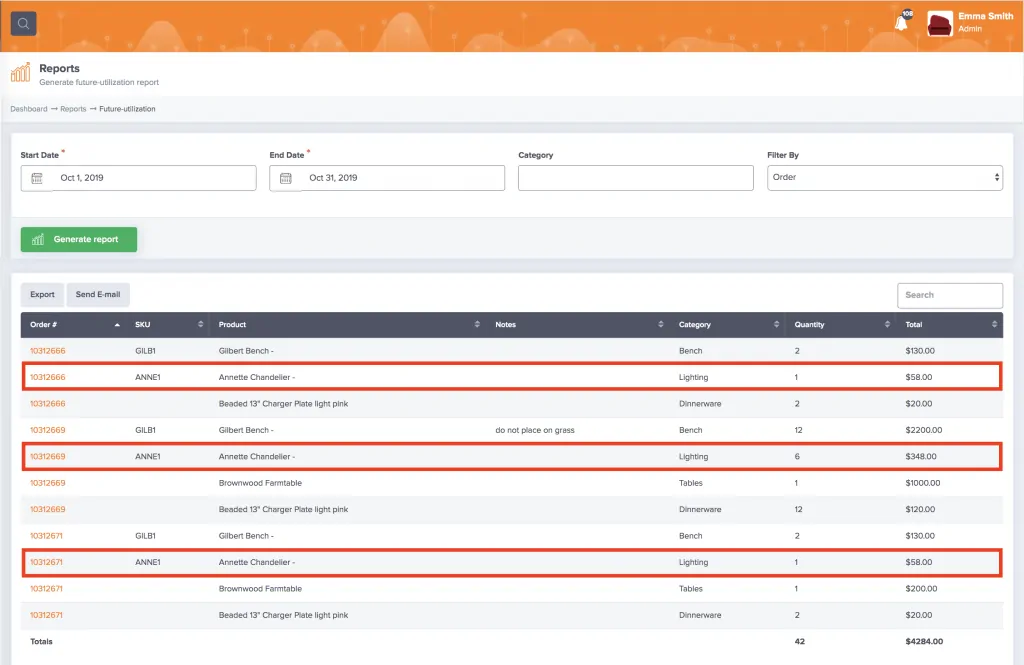 Once an item is marked as damaged or unrepairable, it's important to understand which upcoming orders contain that inventory item. Unfortunately, in the case that the product will not be repaired or will not be found and replaced before the next event, it's important to get in touch with your client as soon as possible to offer a similar alternative or to provide a discount.
You do your best to protect the inventory investments that you spent so much time curating and maintaining. In the case of damaged or lost items, Rentopian allows you to hold the responsible party accountable, and not let it impact any future orders or profits.