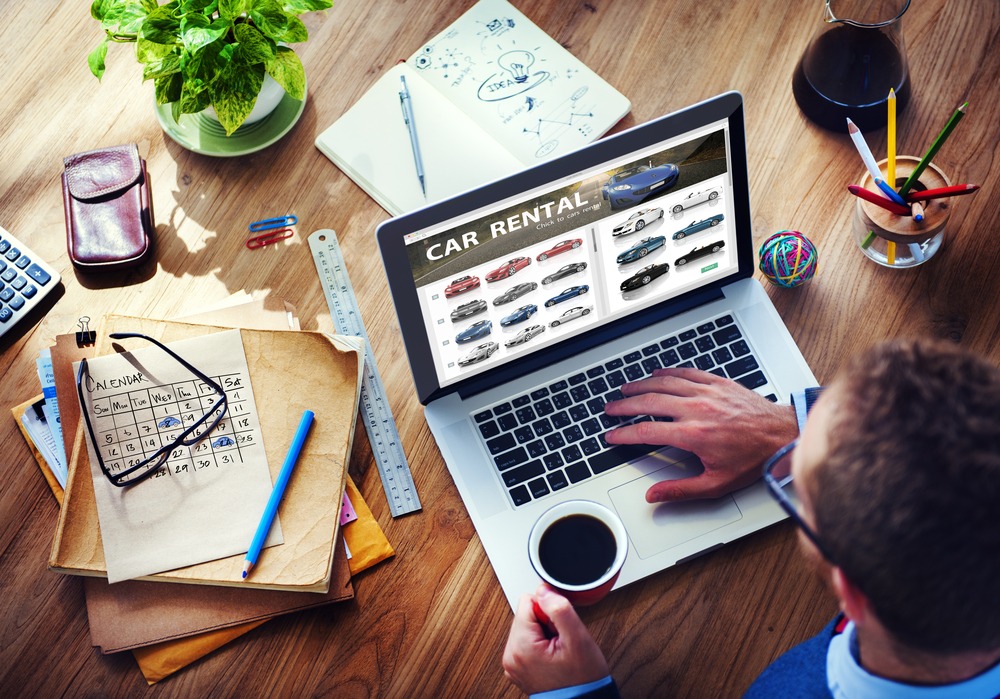 E-commerce retail sales/rentals, including both direct and indirect sales, is predicted to reach $1.5 trillion USD in 2021. By 2026, this has the potential to quadruple. As consumer habits and tastes change, more and more retailers also realize what most e-commerce businesses already know: there's no place like the internet to make money in your business. With globalization and the rise in online shopping that comes with it, e-commerce sales are set to quadruple in just five years. This means that companies of all sizes and across sectors must rethink how they handle logistics, inventory, marketing expenditures, and more as a result of this new focus.
Growing your event rental business' online presence 
There are two primary methods of generating sales—social media marketing and traditional marketing. Years past, traditional marketing was by far the most popular means of advertising for products or services, but today technology is changing all the time which has replaced the need for TV commercials because more often than not people are spending more time online rather than watching television. This is particularly true with younger people. When people see a product or service marketed online, they are much more likely to buy it than if they see it on TV. People are using social media more than ever before. The majority of all web traffic comes from social networking sites. If companies want to survive the current competitive marketplace, they have to advertise their brand on social media channels to as many people as possible. Simply put- less face-to-face communication, more online interaction!
Social media marketing 
Consistency is key when it comes to posting your content. The more often you update, the more likely people will come back for more. By communicating with your customers and actively engaging them in a conversation with your business by asking questions and inviting input from them about what they want from your company, it makes them feel like they're a part of the process and not just being talked at. People tend to respond better when there is open dialogue about topics rather than one-sided conversations using closed communications (such as message boards or emails).
You may want to create a mailing list so that individuals can sign up. Once you have a decent number of subscribers, you can then inform them of the type of items or services that you'll be offering when they step inside your business and/or services.
SEO 
Search engine optimization is a strategy that helps boost your website or web page's ranking in organic (non-paid) search engine results.
SEO is an important aspect for any business, not just event rental companies. It involves improving one's website presence and visibility to make it easy for search engines such as Yahoo, Google, or Bing to bring your site up in search result rankings when possible customers or potential clients use keywords to search for something they are interested in. Finding the right audience to visit one's site is important when it comes down to engaging with visitors who will be more likely to purchase your product or service. Search engines need to first- be able to find your website, second- ensure that what your website is about is obvious so sites with similar descriptions do not appear, and third – determine which keywords you can utilize cost effectively when it comes down to establishing an online presence in the long term so you can reach the highest amount of people possible in a variety of different ways. View our complete SEO 101 Guide, here. 
Paid advertising on search engines
Paid, or sponsored, advertising campaigns can be a great way to get more traffic on your site very quickly. It's not expensive to start a new campaign but you may be required to try multiple different advertising channels in order to find the one that fits your audience the best and falls within your budget.
The easiest way to reach your audience is through Google Ads. If you have the funds, paying for ads that appear at the top of search results can open doors to more new customers who are searching for what you have to offer.
To use one of our own event rental software companies as an example, Rentopian uses Google Adwords to show ads only to people who are seeking its product- ana event rental management software. This ensures that no time or money is wasted on reaching out to people who are not actively searching for Rentopian's services and helps us target exactly those who are really seeking our product.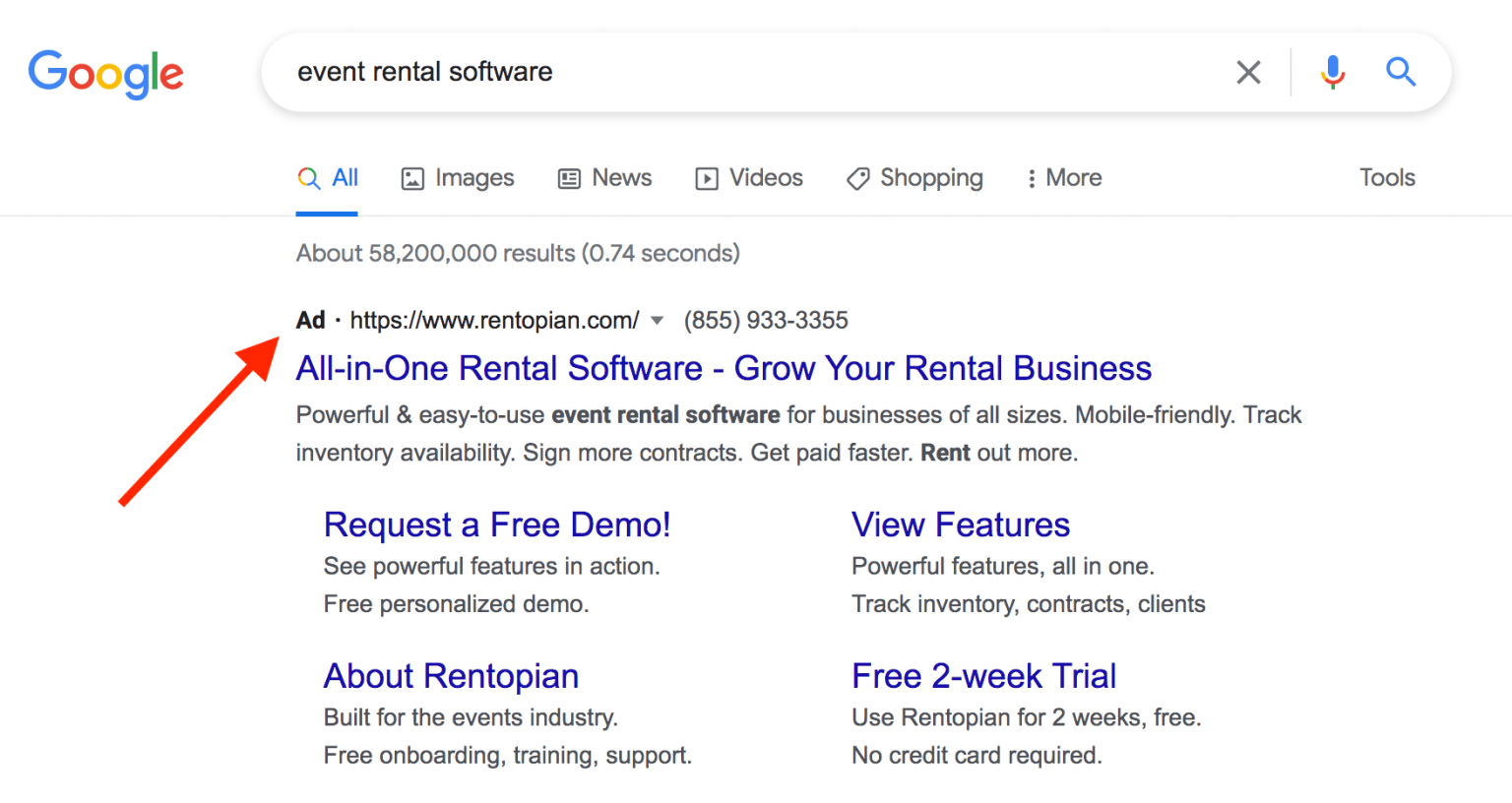 While there is a lot of nuance to increasing your event rental business' online presence, you can create something personal and unique just for your event rental business via the different online methods. It's best to start small and see what sticks first before starting an intensive marketing campaign. When putting yourself out there on the internet, make sure you're not doing things simply for the sake of growing your customer base – be genuine and try to engage with interested individuals who may otherwise never learn about your event rental business otherwise!
For a demo of our all-in-one event rental software and a free two-week trial, contact us today!