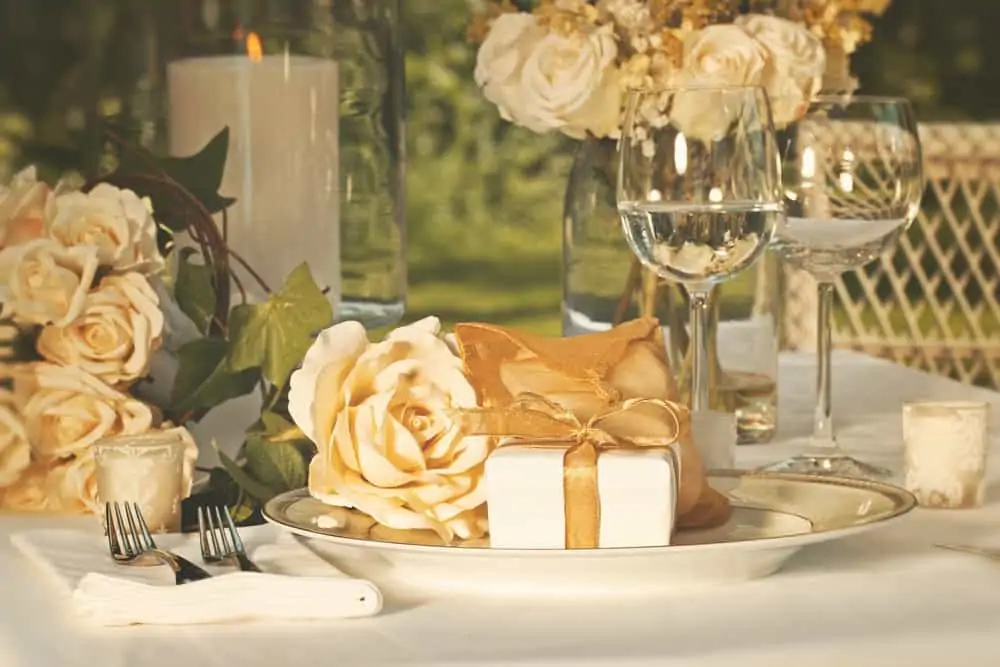 As your event rental business grows, so does the complexity of setting processes in place for a smooth, efficient work environment. You've likely got too many orders to sort through and prepare for, too many clients to call back, and not enough time to get everything done. Managing your event rental business can be a challenge if you don't have the correct tools and strategies in place to improve your efficiency. 
Managing your rental inventory and the status of each quote or order can be tiresome if it's all done manually. By automating procedures such as tracking and reporting, you and your team spend less time on administrative and tedious tasks and more time serving your clients, researching the next event rental inventory trends, or growing your company.
With Rentopian's powerful and sleek quote and order management tools, you have all the visibility you need to understand which inventory items are in-stock, where they are, and when they'll be returned, all in an easy-to-use dashboard. With a unified view of all inventory and orders, production teams can easily identify items that are in-stock and track which products have been sold or rented and which are still available for any given date range
By learning how to do this correctly, event rental companies can be more productive and prevent double bookings from happening. No matter how thorough you or your team are, some bookings slip through the cracks- especially if you're using outdated methods such as inventory and order management on an Excel spreadsheet (or in your head!). The key is to manage those orders and inventory in a way that creates less work for you. By making use of order statuses correctly, you can easily see which bookings need your attention without having to constantly check every single one.
There are 4 main stages for each transaction –  Quote, Order, Rented Out, and Returned. Let's dive into each stage in more detail:
Status: Quote
When a potential client first reaches out to you, whether it's by phone, email, or thought your website's quote wishlist, you're able to create branded quote and order pages so that your clients can get a clear breakdown of the costs associated with their rental. Rentopian allows you to group inventory items into color-coded and labeled groups. This makes it easier for customers to see exactly what's included in their proposal. Additionally, with each quote you're able to add an event title and other event details such as the planner's information, guest count, venue information, and more. Once the quote is emailed to the potential customer, it's important to remove any impediments that may cause them to reject the quote. Using Rentopian's Quote Wizard, the client will receive simply one email to review and confirm the quote, sign your predefined rental contract and terms and conditions, then submit an online payment. If the client needs to make any changes to the quote, whether it's editing the rental inventory or changing their delivery and setup logistics, they can easily "Reject" the quote and request adjustments. Whether the client accepts the quote or requests adjustments, the corresponding notification will come into your Rentopian account instantly. Creating a user-friendly ordering process results in happier clients and less turnaround time in getting a quote converted to an actual order or booking.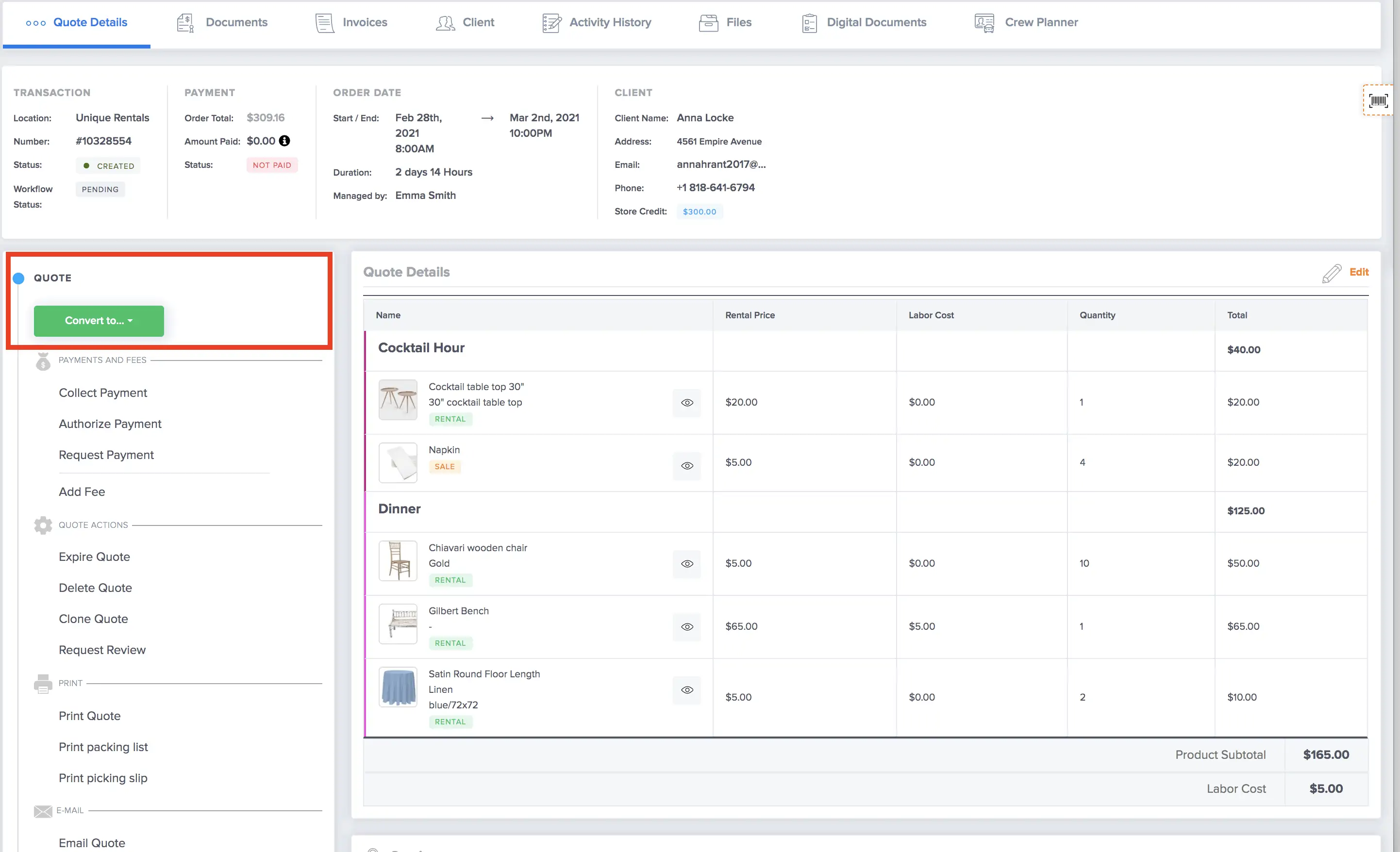 Status: Order
There are two methods of creating a new transaction. The first method is to create a quote and convert it into an order. The second method is to create an order directly. Additionally, you're able to set a minimum deposit percentage required to convert a quote to an order. For example, aa  30% deposit of the order total can be a configured as a setting. This will require you to collect a payment in the amount of the deposit percentage in order to reserve inventory and convert the quote to an order. Additionally, you have the option of allowing an override of the minimum deposit requirement. In this case, if there's no deposit requirement for a transaction or if it is less than the required minimum, a warning notification will appear with an option to proceed without collecting the required deposit. Otherwise, you won't be able to reserve inventory and create an order unless the minimum deposit requirement is met.  
Once the status is an "Order", you have several actionable items that can be conducted on the order. For example, you can request a payment, email the order PDF, cancel the order, and so on. You're able to make changes to the order and even have an augtomateed email sent to the client after every order edit, should you choose to do so. 
Status: Rented Out
When the order is picked, packed, and ready to be delivered or picked up by the client, the next status that you'll need to change the order to is "Rented out". When you distinguish when an order is rented out is up to you. For some, as soon as the order has left the warehouse or inventory storage location, it's considered to be rented out. For others, an order is rented out once it has been delivered to the venue or event location and set up. Even when an order is rented out, you're still able to conduct some actions from the order listing.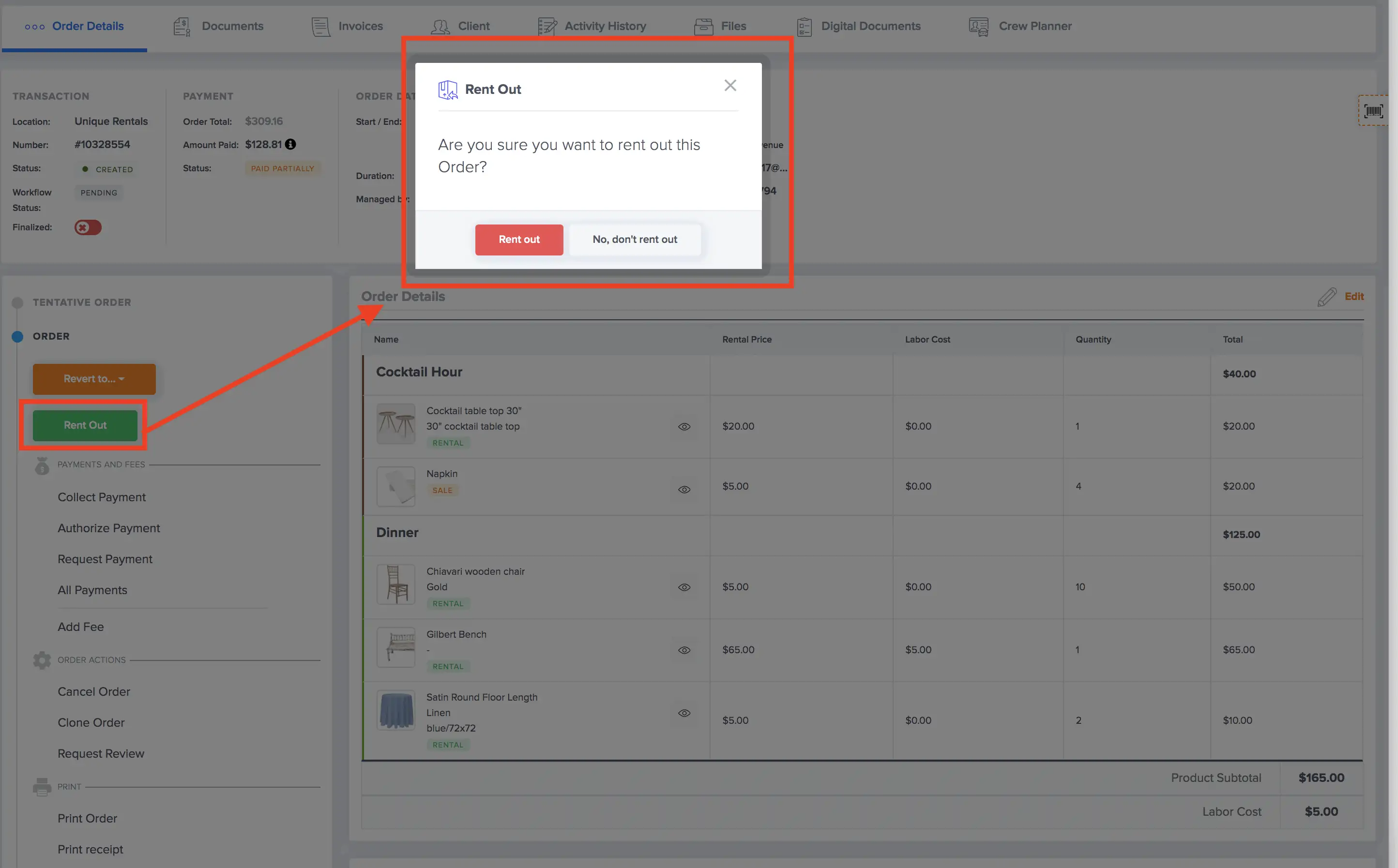 Status: Returned
Once the order is picked up and returned to the warehouse or the client returns their rentals back to you, the next status is Returned.
When beginning the return process to check inventory items back in, all items in the order will be listed on the "Returning Items" page. In the case where some items in an order are returned earlier than others, the list of previously returned items will be displayed in the "Previous Returns" block at the bottom of the page.
If all items were returned in normal conditions and were not damaged, simply click on the "Receive" button. The order will be then automatically be marked as "Returned" and based on your settings, will be archived after a set amount of days to remove clutter from your orders list.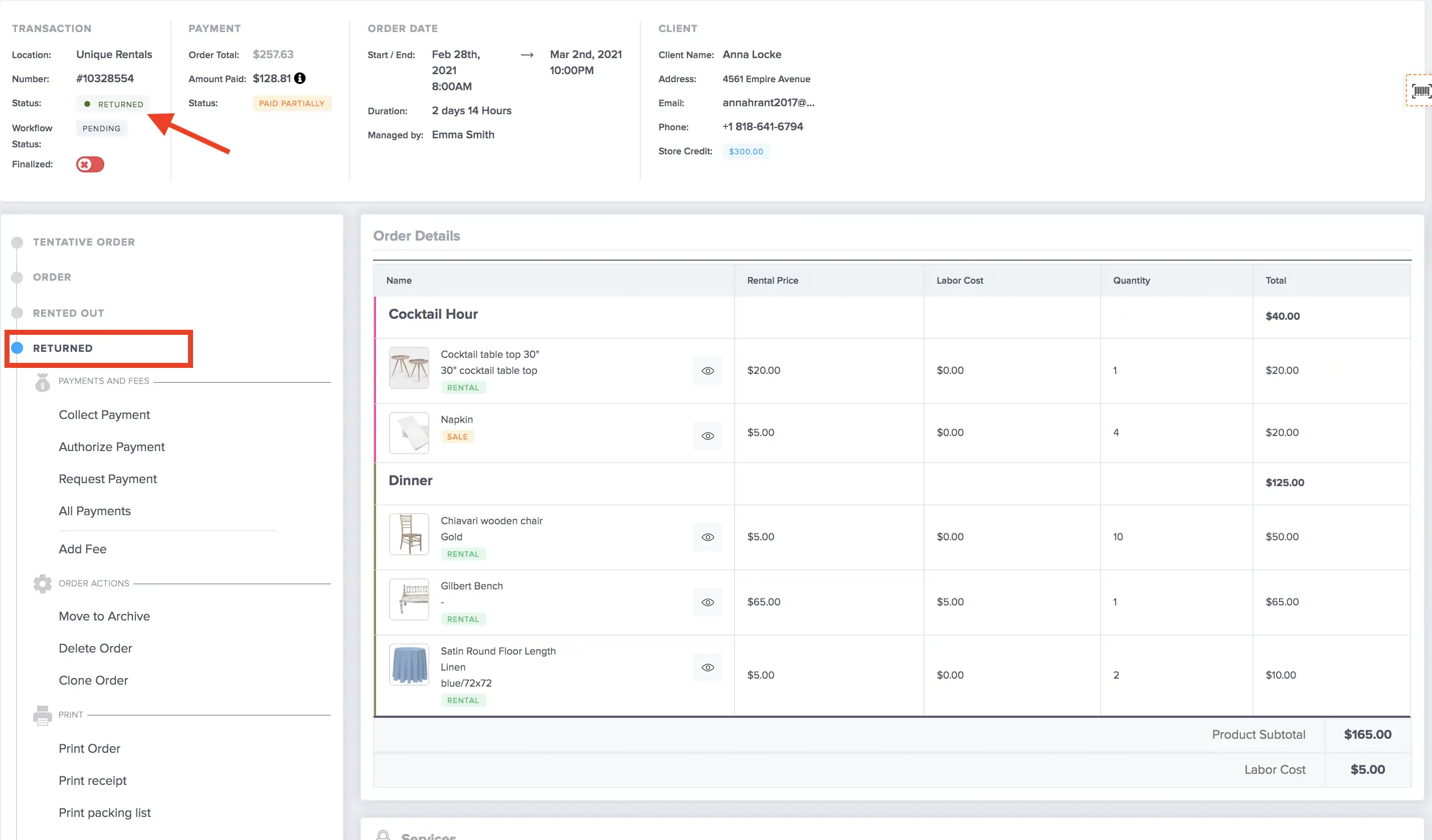 If any items were returned damaged or in an unrepairable state, you have the following options:
Repairable items


You

can create a work order for repairable items. You send an item repair request to a vendor who is responsible for damaged item repairs by attaching all the necessary information. The damaged item is temporarily removed from your inventory availability and is reinstated once the vendor returns the fixed item to you.




To label items as damaged/repairable, enter the quantity that needs repairs in the "Needs Repair" column. Additional fields will appear for you to input any damage fees and damage description information, with an option to create a work order. If this option is selected, the items can be found in the

Work Orders

section, once you are finished with the receiving process.

Unrepairable items


To label items as unrepairable, enter the quantity in the "Unrepairable" column. The fees associated with the product replacement price will be added to the client's invoice.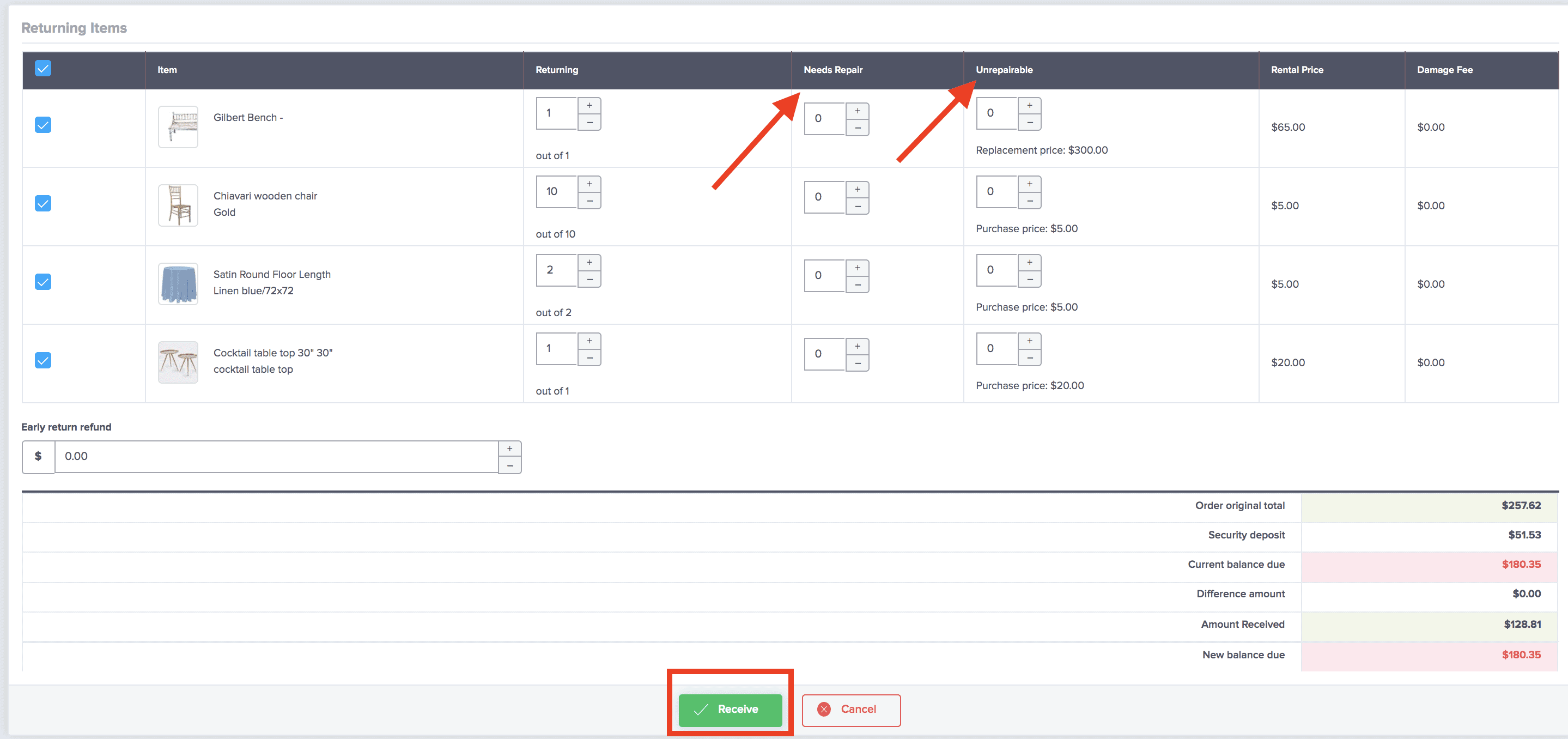 Other Statuses
Quote, Order, Rented Out, and Returned is the standard workflow of a project within Rentopian. However, in certain circumstances, you may also cancel an order which will mark the order as "Cancelled". In the case where a client doesn't return their event rental items on time or your company is late upon picking it up from the venue at it's assigned pickup time, Rentopian will automatically mark the order as "Delinquent". 
Once the order has been returned and all administrative tasks involved with it are completed, it typically concludes the end of your rental cycle. Knowing the status of each project, as well as the inventory items within the quote or order, are essential to running a streamlined and organized event rental business. With the ability to see which orders have conflicts, or need your attention to proceed to the next step. With a clear overview of the most essential part of your event rental business, along with the automation tools that Rentopian provides, the correct statuses will give you peace of mind and prevent any quotes or orders from slipping through the cracks. For a personalized one-on-one demo and a 2-week trial, please contact [email protected].