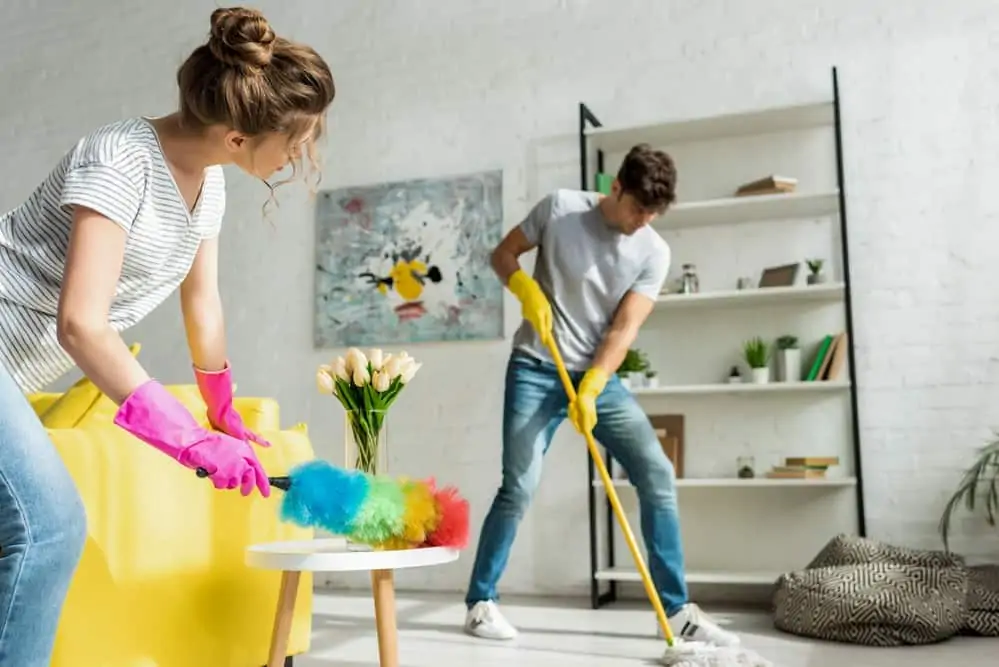 COVID-19 Sanitizing/Cleaning Guidelines for Your Rental Inventory
With professional and semi-professional events and gatherings being suspended, leisure events being canceled, and a national emergency declared in the United States almost all throughout 2020, comes the need for event rental businesses in 2021 to especially focus on the strategies that can curb COVID-19's spread and help provide clients the best and safe event experience. As per ARA's Rental Pulse, the number of cancellations and modifications to the rental-purchase orders are decreasing across the rental industries and event rental businesses are experiencing severe revenue impacts. As the quarantine restrictions ease, this is the high time for the event rental businesses to prepare themselves for a post-COVID-19 environment by ensuring Covid-19 sanitizing/cleaning guidelines in place for their rental inventory and recover their revenue figures. Rentopian helps event rental companies streamline their rental inventory management, take into account all phases; from the initial quote, generation to order return stage. At the same time, it also helps businesses track and manage their sanitized and to-be-sanitized inventory, determine the most vulnerable rental items and equipment, and develop strategies to keep the rental inventory safe and free from hazards. In this article, Rentopian brings the Covid-19 sanitizing/cleaning guidelines for your rental inventory that you must adopt, if you haven't already done so!
Safe Manpower – Safe Inventory
Being an event rental business, you must have a team in place to manage your inventory; be it purchaser, stock taker, accountant, warehouse professional, etc. Rentopian brings all your inventory control under a centralized virtual environment; however, the physical contact of employees with the rental inventory items and equipment cannot be avoided. Therefore, the first and most crucial factor to ensure Covid-19 sanitization and cleaning guidelines for your rental inventory is to keep your employees under constant health monitoring.
Having a health-screening entrance at your warehouse or showroom can greatly help to avoid potential hazards. Many warehouses and showrooms have installed disinfectant spray stations from which employees, as well as inventory, are passed through before entering the warehouse, ensuring rental inventory is free from bacteria and viruses.
Also, promote frequent use of sanitizer and hand-washing. The best way to curb virus spread is by using warm water and soap. Soap breaks the sticky bond between your skin and the virus, letting it slide right off. According to UCHealth, soap not only neutralizes the virus but also physically knocks it off your hands, preventing any virus exposure to the rental inventory you touch.
Instruct employees to use disposable gloves and keep the door handles, computer systems, floors, fixtures, furniture, and equipment sanitized. It is recommended to use only CDC-approved EPA-registered disinfectants to clean your rental inventory.
Keep Cleaning & Sanitization Products in Stock
Besides maintaining your rental inventory, it is equally important to keep an abundant stock of cleaning and sanitizing products to disinfect rental inventory frequently. For example, keep a stock of hand sanitizers, alcohol, bleach, Lysol Spray, and Clorox wipes. Rentopian, an all-inclusive event rental management software, also comes into play here to help event businesses, helping them maintain their inventory stock in terms of distinct categories and sub-categories. This way, your team can better manage their sanitizing/cleaning items stocks.
Know the Factors Involved in your Rental Inventory Cleaning & Sanitization
According to many research reports, non-sanitized equipment and items are one of the key sources of spreading Covid-19. Therefore, the CDC has issued strict guidelines for rental businesses to keep their inventory clean and sanitized before and after every use. Moreover, they are required to ensure timely sanitization of even those inventory items that are not in use.
As we can see, going forward in 2021, cleaning and sanitizing are of utmost importance and customers would prefer businesses with visible sanitization measures and procedures in place for their inventory. Therefore, this translates both to an opportunity and a risk for your business; an opportunity if you can successfully implement Covid-19 cleaning and sanitization guidelines for your rental inventory, or a risk to lose customers if you don't.
All surfaces of equipment or items returned from a rental order must be well-cleaned before being returned to the warehouse and before the next rental order goes out (for instance, furniture, cutlery, vehicles, fixtures, etc.)
Keep Record of Inventory Materials
Your event rental inventory is likely made up of varied materials, possibly requiring different methods of cleaning and sanitizing; such as plastic, wood, metal, glass, paper, ceramic, copper, marble, etc.
Using one cleaning/sanitizing method or approach for one kind of material might not be equally suitable for the other. Moreover, using an inappropriate or prohibited cleaning method for a certain material or equipment may not only affect its look but also negatively impact its function and durability. Therefore, you must maintain a complete and updated record of your rental inventory in terms of their material and cleaning/maintenance requirements for each. Rentopian can aid in this with streamlined inventory record-keeping, and effective management.
Fortunately, commercial dishwashers clean and disinfect tabletop items. They must only be touched with clean, disposable gloves, packed in sanitary, clean storage containers, and then shrink-wrapped before going out. On the other hand, for upholstered furniture, it is more difficult to thoroughly clean the softer surfaces than often-touched hard surfaces. For example, invest in the equipment in-house to clean the fabric surfaces instead of outsourcing. Using Rentopian, you're able to make conflict buffers on inventory that require extra cleaning to enable time and space in between each order.
Comply with the New Standards
Event rental businesses must execute measures to achieve the minimum standards as well as document these measures. They must perform a risk assessment to decide which control measures are most suitable for their specific rental industry and business. They must consider the level of risk of the virus spreading that exists at the time.
The first step is to start a risk assessment. This helps you:
identify which employees are at risk of exposure

control what sources and processes may lead to the risk

recognize what type of control measures must be in place, and

check the success of current control measures
Make Your Cleaning Strategy
Your exact cleaning and sanitization strategy is based on the kind of your specific industry and level of operations; however, usually, the cleaning strategy is based on the overall risk assessment as well. Nonetheless, the following are some of the key points to consider while developing your Covid-19 sanitization/cleaning strategy for your rental inventory. 
Ensure that cleaning the frequently used surfaces and items is done at least daily

Any surfaces and equipment that are dirty, or have spills, should be cleaned as soon as this is seen, irrespective of when they were last cleaned

Using detergent and water is suitable for cleaning.

Cleaning should begin with the cleanest surface and inventory first, progressively moving towards the dirtiest ones

Disinfecting implies using chemicals to destroy germs on surfaces. These can be in the form of liquids/sprays or wipes and are branded as "disinfectant" on their packaging

Disinfectants are essential especially if a surface or equipment is contaminated with potentially infectious material, or if your facility has a lot of customers or others entering each day

Consult with your staff responsible for regular cleaning, or if you have outsourced, your cleaning contractor. Make sure they maintain the increased level of cleaning schedule, including supplies, etc.

Display your inventory cleaning schedule in the warehouses as well as the whole workplace. Make sure all your staff sign them off each time they clean the area/items and customers can be aware of the measures you are taking to keep your inventory safe.
You should also disinfect high-touch points in your premises, which include:
Light switches, outlets, lamp and fan pull-chains and switches

Window sills pull and handle

Cabinet pulls and knobs

Controls for large appliance and electronics

Controls and cords for plug-in appliances and electronics (such as coffee maker, toaster, etc)

Temperature controls

Hangers and luggage racks

Drawer knobs or pulls

Door knobs or pulls

Remote controls

Stair railings and outdoor porch railings
The Final Thoughts
2021 is the year to curb Covid-19 and make the most of the great business opportunities expected in post-covid times. In turn, the rental industry will be witnessing a massive shift in terms of new standards of cleaning and sanitizing their rental inventory, not just to regain customer confidence but also to play a role in preventing a Covid-19 spread. Rentopian is there to help accelerate your cleaning and sanitizing strategy by letting you manage your inventory in the most effective and controlled way.