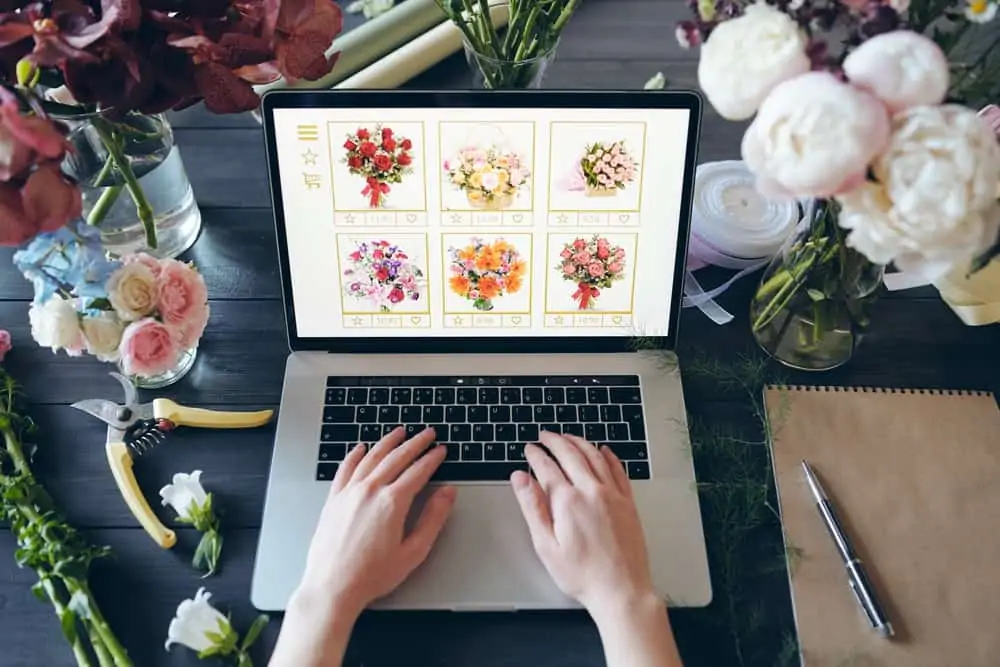 Do you know that renting is the trend rapidly rising in the world, taking over a trend of buying? As per an article published in Your Story, the volume of the rental market will reach around $59.4 billion in 2021 with an annual growth rate of 6.1 percent. Is your event rental business ready to make the most of the opportunity? If yes, you must have a well-built website for your event rental business. After the year of everything going digital- school, work, retail, medical care, etc., the majority of your target market will be searching your services online, reading reviews and comments, visiting your website, and checking your online presence. A user-friendly, informative website is mandatory for your event rental business to thrive. Don't you have a website? No worries! In this article, the team at Rentopian, the all-in-one event rental management software, shares the best platforms you can use for your event rental business website. Explore the unmatched website experience offered by Rentopian, serving thousands of event rental businesses across the world.
Choosing the right website development platform is hard, especially when there are many options available. Let's take a look at some of the best options.
WordPress
When most people talk about WordPress, they're generally referring to the free open-source software that one can get at WordPress.org. That's a very powerful platform, but it takes some effort and time to learn and still requires that you find a website host and domain name. If you want to use the advanced route of WordPress.org, we suggest you check out a tutorial or guide like those you can find on WPBeginner or WebsiteToolTester to know how this platform works.
The WordPress.com website builder is something else. It's like the other builders and is mainly geared toward writers and bloggers. The WordPress website editor is equitably limited compared to other services but is easy to install and has everything you need for your event rental business online content needs. We should also note that it's not an intuitive drag-and-drop website platform like Wix.
Its pricing is quite cheap, starting as low as $5 per month to eliminate WordPress ads and giving you 6GB of storage. For small event rental companies that may have tight budgets, it makes an excellent choice. From there it goes to $8 for 13GB of storage and online selling abilities, and lastly, a $25 option that lets you use custom WordPress theme add-ons and options. The $8 option looks like the best deal if you're setting up your event rental business blog and thinking about generating leads out of it and monetizing it at some point.
Overall, WordPress is a great option for event rental businesses who don't want or need to spend a lot of time on their website design. The customization and flexibility that it allows are unmatched by any other website hosting option.
Squarespace
Squarespace strikes new event rental businesses like a cool kid in high school — flashy and hip on the surface but with less substance underneath. It is somewhere in between Wix and Weebly in terms of user-friendly interface, though it did get reliably positive marks from the users when it comes to the quality of design. Where we think it really may shine is for new small – to medium-size event rental businesses who need a nicely designed web page and room for e-commerce expansion with lower transaction fees.
The Squarespace editor isn't as intuitive as Wix, necessitating a little bit of work until you get the hang of it. It has a fair number of add-ons, website tools and templates, and the universal style editor where the strong photo editing capabilities are helpful. The responsive website editor implies that the site will always look visually impressive on a mobile device, but you won't be able to make mobile-specific edits. It is also known for consistent, helpful, and responsive customer support, which puts the event rental business owners' minds at ease.
Squarespace starts with an economical $12-a-month Personal plan, that entails unlimited storage, bandwidth, and a domain, and provides an $18 Business website plan including unlimited contributors, a Gmail pro account, and e-commerce store builder capabilities. If you want to go for an "Online Store" plan, you can select between $26 and $40 a month, the latter of which offers a few final touches such as abandoned shopping cart recovery and gift cards. It's important to note that the $26 online store plan, while perhaps slightly above the market rate for an e-commerce site, comes with zero transaction fees. So, based on your rental event business sales volume on a given month, such savings for your online store could add up.
Overall, Squarespace's website is a good analog for what event rental businesses get with its products: clean, inviting, professional web design, but without the layers of the design power or freedom that you would get from WordPress.
Wix
Wix is another option when it comes to a platform for your event rental business. It has more than 110 million websites built and vaunts the greatest quantity of tools, capabilities, and freedom. 
Wix covers the complete ease-of-use spectrum by providing an AI-powered automatic website creator on one end ("Wix ADI") that needs minimal effort from the user, all the way to Wix Corvid, an open development platform for highly advanced applications such as Javascript, databases and data-driven dynamic pages. To maximize the web experience, it is recommended to select one lane (e.g., Wix ADI, precise templates, or design-from-scratch), as it can be hard to maintain consistency across the website design if, for instance, you begin with a template but then decide you want to completely customize it.
Like a lot of competitors in this domain, Wix gives a basic free website development plan that lets users create a free website starter site with ads. If you like the free website builder, you can spend up on a premium, ad-free site. Pricing is as per the industry standards with a $13-per-month "Combo" plan covering most of the needs for a personal event rental business website. If you need an e-commerce website platform for your business, Wix offers a $49-per-month "Business VIP" e-commerce website plan for the online store. Those prices; however, do not cover a domain, so you'll need to consider that cost separately. And if you're interested in stats and analytics, you'll either need to get a Google Analytics paid plan or another third-party tool, as Wix doesn't have its own.
Despite being one of the most popular and most favorite platforms among most reviewers, Wix does contain a few drawbacks. Wix was one of the few platforms that have data limitations for each of its plan tiers, so if you want to upload an infinite number of event or inventory photos and videos, or expect over 5,000 visitors a month to your event rental website, make sure you do the calculation before selecting a plan.  
Also, the editor's freedom and plenty of options can be overwhelming for people who don't have the time or expertise to make lots of little decisions. The web design flexibility implies you'll need to be more hands-on with the layout and format as opposed to more limited or structured platforms where you can't draw too far outside the lines.
The Comparison
Pros 
WordPress
Squarespace
Wix

Value for money

Design flexibility

Ease of use

Ease of use

Features

Value for money

Unlimited customization

Customer support

Customer support

Customer support

Ease of use

Design flexibility

Design flexibility

Value for money

Features

Plugins and add ons

 

 
 Cons
WordPress
Squarespace
Wix

Requires coding knowledge

Hard to use at first

Inability to switch theme after publishing

Requires web hosting

Limited pricing plans

The overwhelming range of lots of options

 

 

 

 

 

 

 

 

 

 

 
Usually, we recommend the WordPress platform for event rental businesses since it is self-hosted software. It means you just need to find web hosting yourself and you can code everything as per your requirements. WordPress is for tech-savvy event rental businesses who want total freedom. To accelerate the functionality, take the help of Rentopian, your one-stop-shop for all your event rental business processes needs. It centralizes all your event rental processes. 
How Does Rentopian Help You Achieve the Best Web Experience?
Rentopian offers a very powerful WordPress plugin, enabling event rental companies to connect their operational activities like inventory, clients, tax rates, delivery zones and fees, services, etc. to their website, giving them complete control over their web experience. Rentopian's WordPress plugin serves two main purposes: enabling synchronization of your Rentopian system data with your company's storefront (website) and allowing your website visitors to browse your inventory and place orders and quotes.
Additional functions and capabilities of Rentopian's WordPress plugin include:
Use our WordPress plugin to seamlessly integrate your inventory with your website, or connect to our API to use with your custom-built website.

Receive detailed quotes from the website, with the option to provide availability information in real-time based on the client's event dates.

Allow clients to book directly from the website, without them submitting a quote first.

Clients enter the rental date and time range from the form on the inventory listing page and provide their ZIP code, add items to cart, then proceed to checkout.

Auto-calculate product prices, labor fees, coupons, delivery fees, taxes, damage waiver fees, and more based on your internal system settings. Clients can view their exact totals before checking out or submitting a quote.

Any changes made in your Rentopian account will reflect on your website, such as changing the product name, editing prices, adding coupons, etc.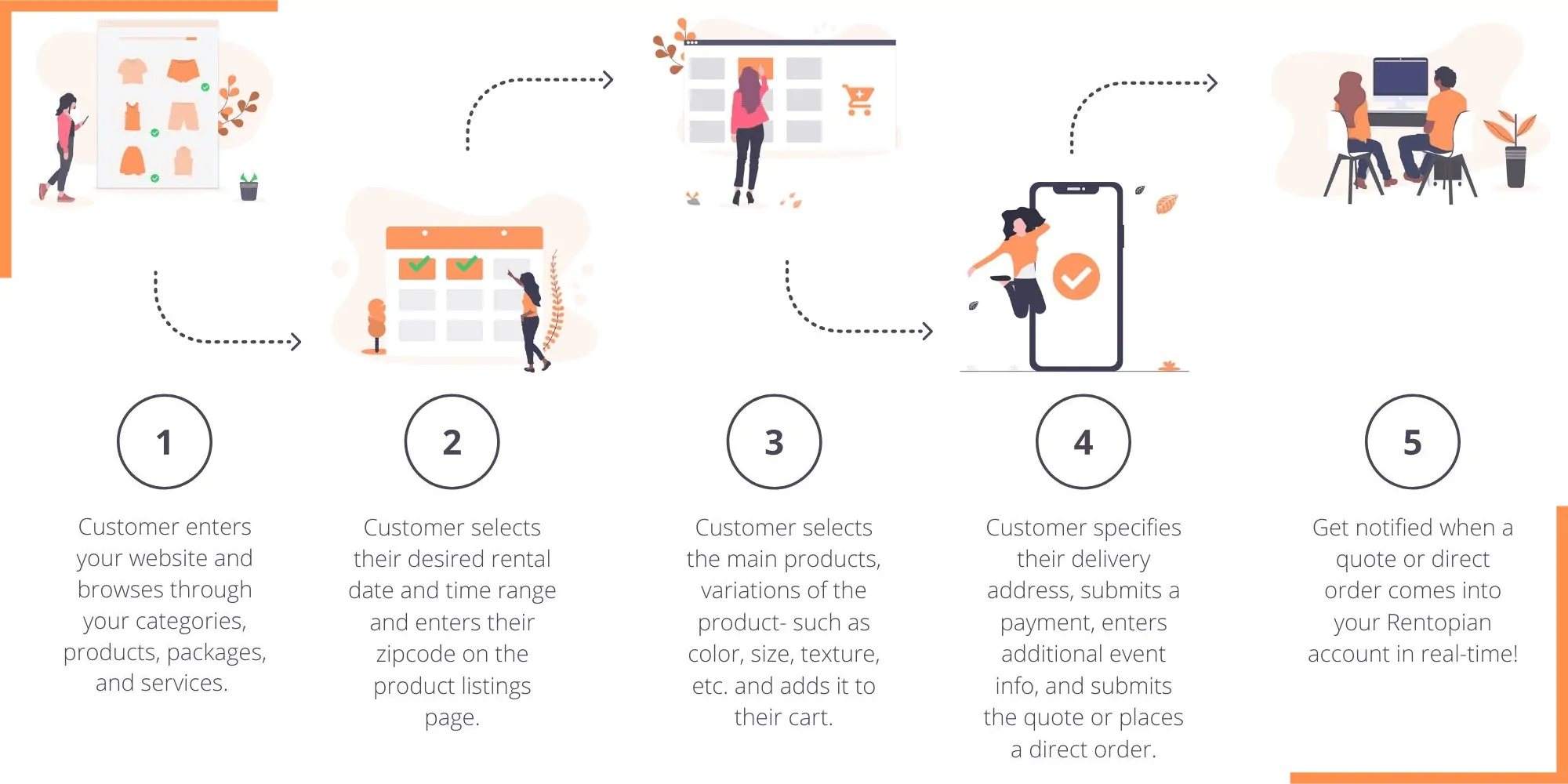 Final Thoughts
In this day and age, having an online presence is absolutely required. Moreover, allowing clients the ability to browse your inventory, submit quotes or orders, and have it all come into your Rentopian account in real-time is a game-changer for the event rental industry. You're able to significantly reduce the amount of time, resources, and money spent on manually trying to increase your rental orders, while Rentopian's WordPress plug-in allows you to create an exceptional online presence while simultaneously profiting as the quote submissions and order bookings continue to come in. For a consultation or a free demo on what Rentopian software and our WordPress plug-in can achieve for your event rental business, contact [email protected].