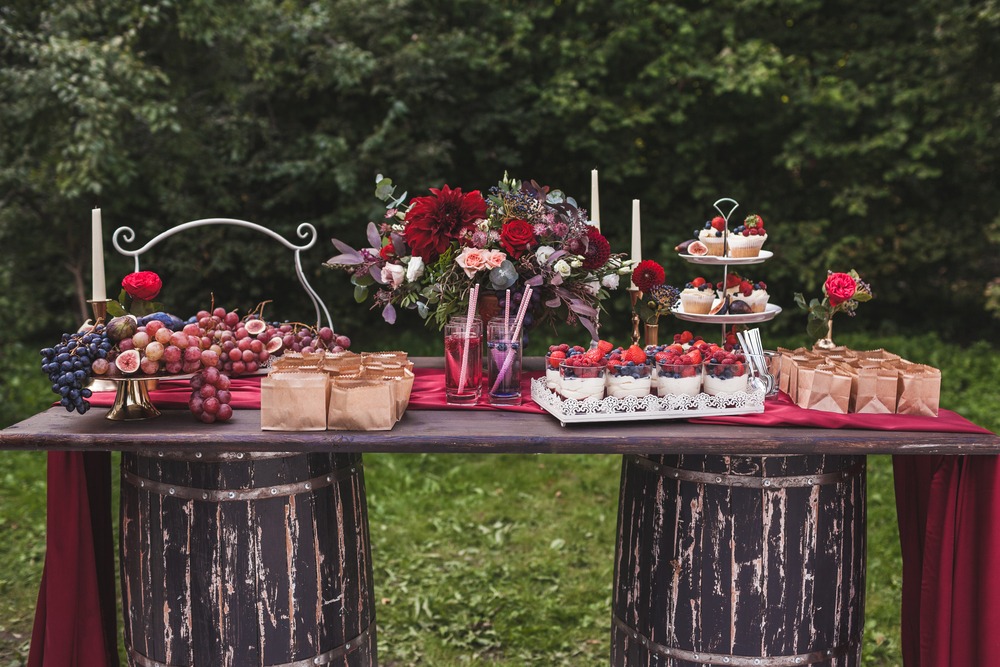 We live in a world that is ever-changing, but some things can be said to never change. One of those things is celebrating! Whether you are holding a grand exhibition for a non-government organization (NGO), or you are setting up a product launch for your soon-to-be business or company, the principles of events management and planning remain unchanged.
It can be sometimes difficult to manage an event. This is because of the many moving parts involved in an event which can be tricky to keep track of. For your event to run smoothly, it is essential to use event rental management software like Rentopian.
Pre-Covid, households and businesses were hosting more and more events every year. Even after Covid-19 restrictions ease up and local and state governments are beginning to reopen specific businesses, there is a prediction that the revenue generated from event rentals will keep growing. It is estimated that the average annual revenue from event rentals in the United States is roughly 5 billion dollars. 
With so much opportunity in the market, there's quite a bit of room for event rental businesses to expand and become industry leaders. However, there will be heavy competition among the present players all vying to be in the lead, especially smaller, local event rental businesses. Event rental businesses will do what it takes to grow and optimize their rental processes, streamline their operations, and cut costs on whatever isn't providing a financial return. 
Event rental software is very helpful for event rental businesses because it automates the management and maintenance of event rental equipment. The software can effectively manage your orders and keep your equipment in good shape for the next rental event.
If you are looking for event rental software, there are some terminologies that you might encounter when dealing with a software company representative. Some of these terminologies are 'cloud-based, 'web-based, 'in the cloud' or 'desktop-based. You need to familiarize yourself with these terminologies and their meaning.
Web-based or cloud-based software means the software can be accessed from any device or app as far as an internet connection is available. Also, desktop-based software means the program on a compact disc (CD) has to be purchased and downloaded onto the computer device.
Desktop-based software was commonly used by businesses in the past, but it was proven to be cost-ineffective. Nowadays, cloud-based software for event service is the commonly used software for all kinds of businesses. Examples of when the cloud-based software is in use are; when depositing money using the banking app on your mobile device, when posting an image on Instagram, and so on.
Since cloud services are the most used type of service, it is also fair to say that using cloud-based event rental software is the best way to solve any problem you might face in your event rental business. Some of the benefits of using cloud-based services in your business are that it increases efficiency, improves cash flow, and so on.
In this article, we have already seen why event rental services are important, and also explained the various terminologies that you might encounter when looking for event rental software. But, let's focus on the top 5 benefits of using the event rental software on your business.
It is Cost-Effective
Event rental software can be said to be cost-effective. For example, cloud-based software providers are considered SaaS (software-as-a-service) companies. This provides software providers with the ability to be flexible with their charges, by charging you a minimal fee per month to make use of the software. Also, by using the event rental software, you will not pay any charges up-front as it is a monthly contract with the flexibility to terminate at any point.
It is the responsibility of the cloud-based software companies to handle all the server expenses required to effectively run your business. This terminates the need for hardware, utilities, facilities, data centers, and other hidden expenses, thereby significantly reducing your costs and expenses without impacting your software functionality or IT capabilities.
With that, Rentopian event rental software provides user-friendly dashboards and reporting systems that allow you to visualize your spending. With this, you can be sure to get a maximized return of investment (ROI) on your event.
Rentopian also ensures that you can see exactly when and where money is going in and coming out of your project at any point in time. Some projects are of a large scale and it can be sometimes complicated and difficult to keep track of the budget assigned to the project manually. By using the Rentopian event rental software, you can see where you are receiving payments and where you are spending so that you can properly control expenses, achieve a higher return on investment, and save more money.
It provides security and reduces errors
In the event rental industry, any slight error or mistake in inventory availability or count can result in a negative experience for your client which can lead to a last-minute rush for you to correct it. That is why using cloud-based event rental inventory management software reduces, if not completely eliminates any form of issues that would otherwise arise from human error which are sometimes inevitable.
By using an all-in-one event rental software, every software user and client instantly receive information updates which eliminate any risk of missing quote requests or wishlist submissions. This also goes for contract signatures, emails, payment requests, thereby saving everyone money and time.
Also, event rental software, especially cloud-based software, can keep data in 3 different locations. So, for any reason, there is a server failure, the data is copied and transferred to the other servers. This makes it extremely difficult, if not impossible, to lose any form of important information.
But for your data to be properly secured, your data needs to be encrypted. Data encryption is a major factor in Data security. The passwords a user has will be used to access the files and software, but when that password is encrypted, no foreign agent including a hacker will not be able to gain access to your data and information.
Instant inventory availability
Event rental software helps you run an event rental business to track your inventory levels in real-time. It also helps you know whether the rental inventory coming in and going out of your business is accurate. This allows you the privilege to see exactly how much stock you currently have at any point in time.
If a client places an order and that inventory item is no longer available within that particular time frame, you will be alerted right away. This benefit is an essential function for you running an event rental business to prevent double-booking or overbooking your event rental inventory.
Additionally, all quotes and orders present in your event rental inventory have an activity and user log so that you can understand clearly what products went where and who rented them out, and when they were rented out.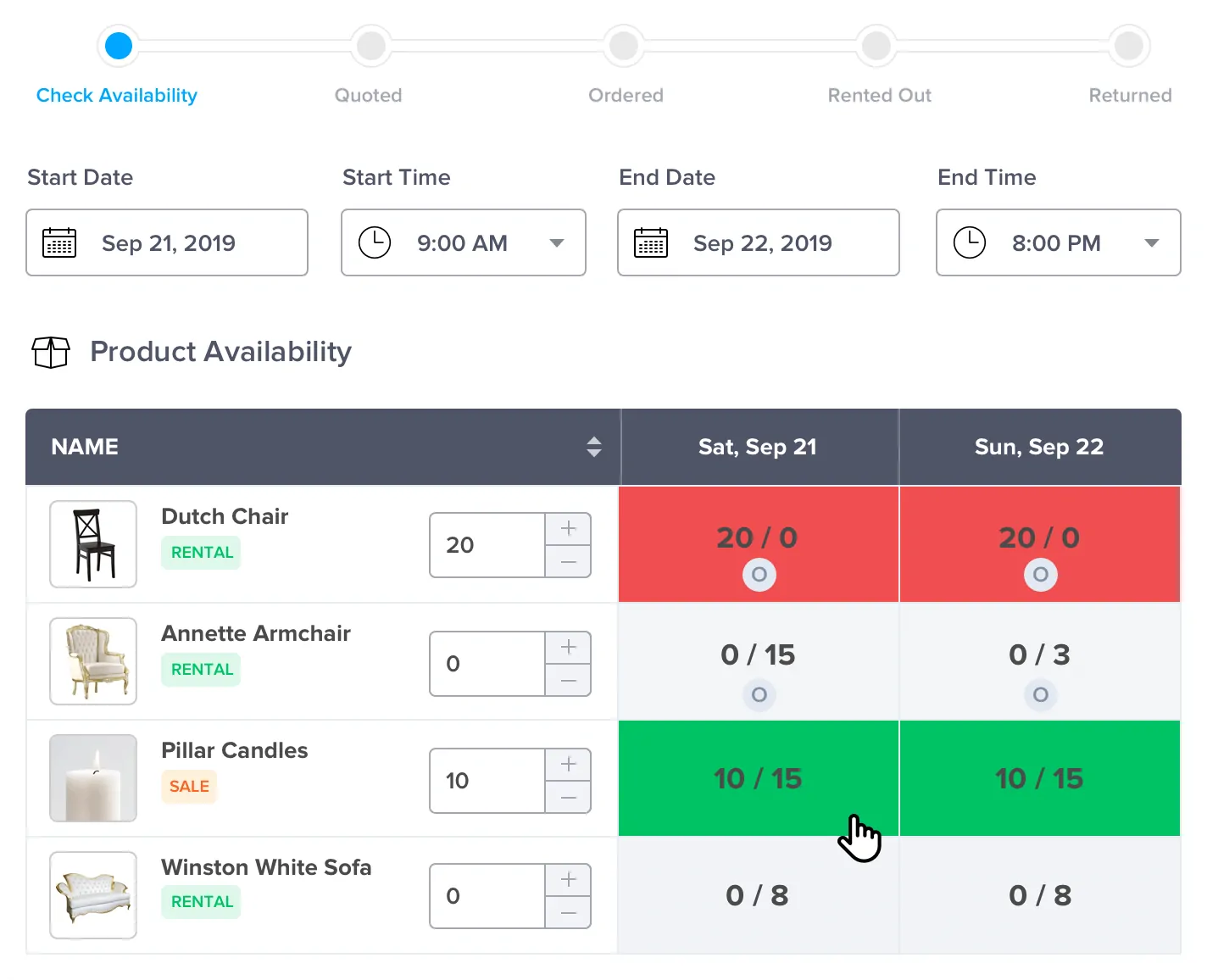 Easy management
As an event rental business owner, using the event rental software helps you keep track of all of the moving parts of your event thereby making it run smoothly. This makes your event much easier to organize and manage instead of managing it manually by separately organizing each element of the element.
The Rentopian event rental software has a dashboard that acts as a centralized hub where all the elements of your event rental business can be managed. From daily tasks, to orders going out and coming back, to past due invoices and more, Rentopian helps to keep everything connected. With robust yet easy-to-use functionality, it brings everything you need together, to ensure your event rental business runs smoothly.  
Website Integration
Rentopian makes it easy for you to seamlessly connect your event rental website to the software. For example, using Rentopian's WordPress plugin, you will have the ability to display images, inventory, and other additional information beautifully on your website. If a change is made to the software, like if an item is changed or if a new inventory item is added, the website automatically reflects these changes.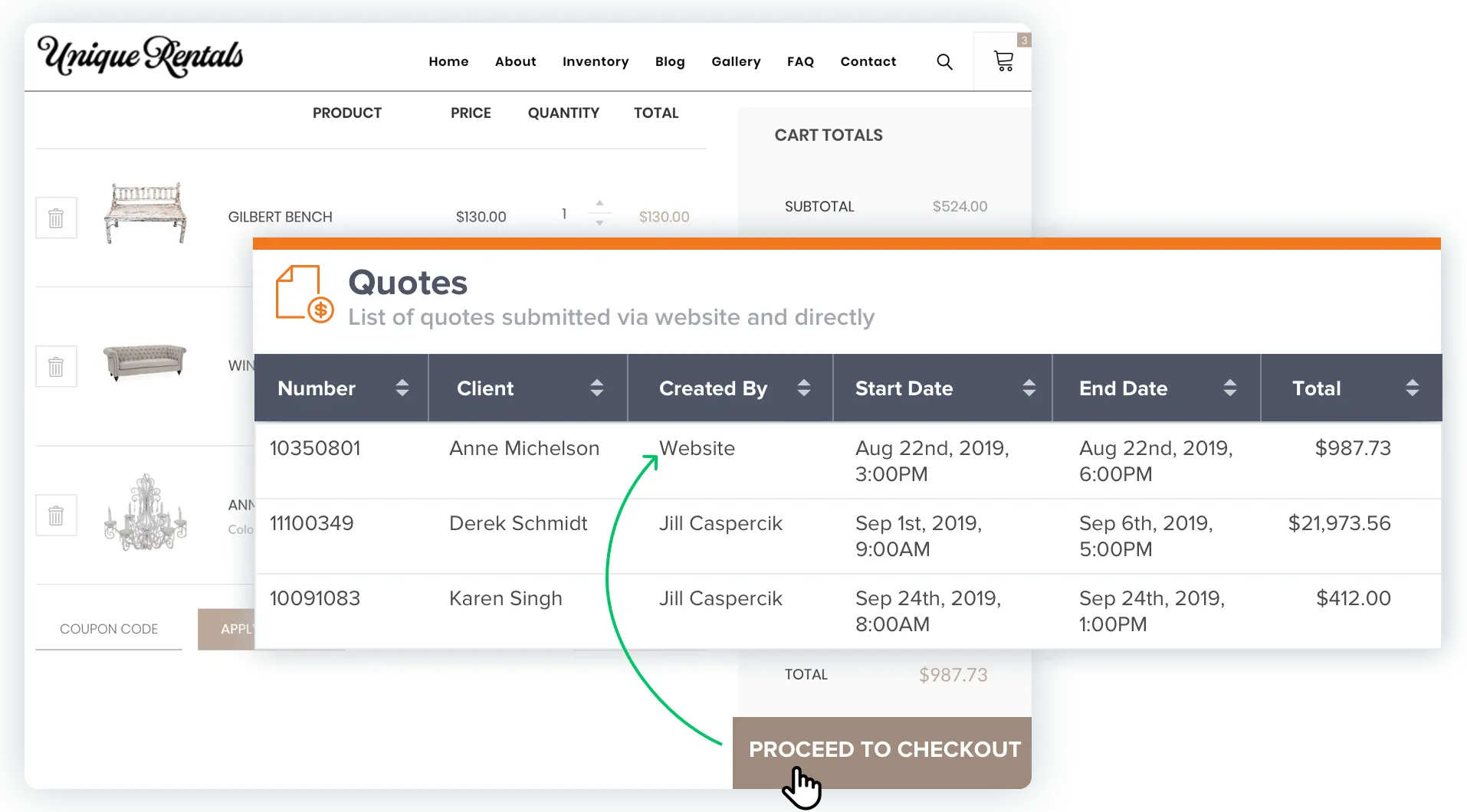 This genuine synchronization between your website and the event rental software will show your clients if the inventory items in their checkout cart are available for their selected event dates or not. Also, clients will be able to place a direct order on your website which will come into your software with all of the selected inventory and required information such as the day-of-event information, billing and delivery details, client's information, and so on.
Conclusion
As an event rental business owner, the last thing you want when managing or organizing an event is for the tool(s) you rely on for a successful event to perform below your expectations. Or even worse- if you're conducting most of your business manually on spreadsheets, an important detail or update can be easily missed. This will cost you either money, time, or both. By using Rentopian event rental software to run your daily operations, you'll be able to level up your event rental business and make it grow, grow, grow! To receive a personalized, one-on-one online demo and a 2-week trial, email us at [email protected].