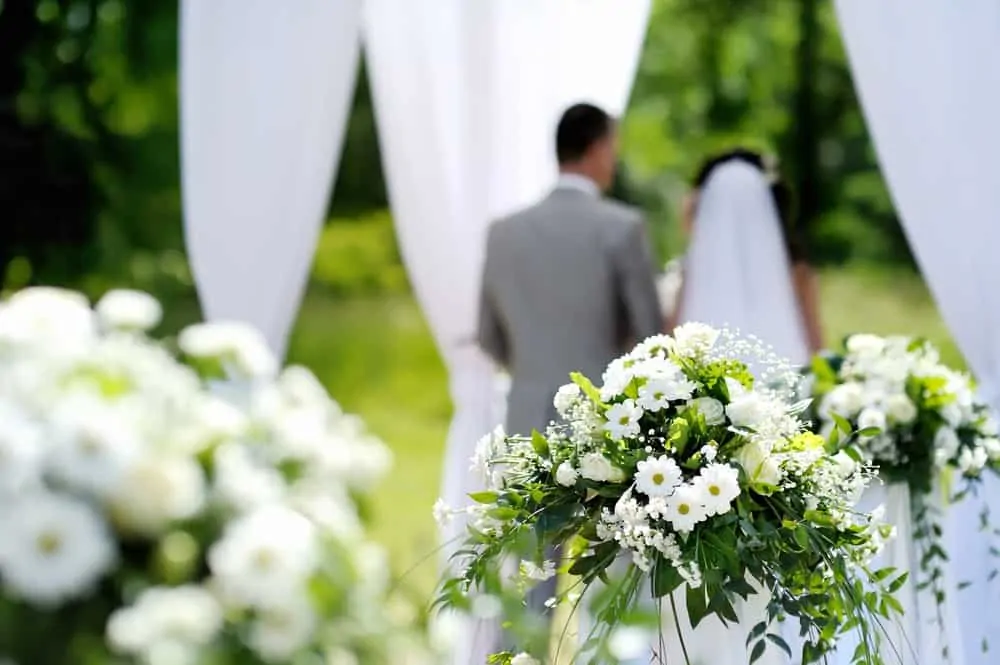 Are you wondering which wedding trends your event rental clients are going to be using for their own events in 2021?
Weddings are personal events that your event rental clients will cherish for the rest of their lives. Since we all have different preferences and likings, there is no cookie-cutter formula for a successful wedding event. The choice of dress, flowers, styling, catering, and everything else depends on the bride and groom.
How is the Event Rental Industry Evolving with Time?
Now that couples are incorporating wedding trends into their own unique events, event rental companies are also adapting to the latest technology for serving their clients. Today, successful event management and rental companies incorporate event rental management software and tools into their business model. Hi-tech automation software ensures quick and reliable delivery of all equipment by providing a complete inventory management system.
Rentopian provides an inclusive event management system to simplify the rental process for rental companies and renters alike. The intuitive cloud-based platform provides a host of features to make every event, such as weddings, super-successful and problem-free. When running multiple and unique events, there is an ongoing need to streamline dozens of processes, facilitate online bookings and payments, and manage warehouse logistics.
15 Wedding Trends in 2021 That Event Rental Companies Should Expect
Here are some unique wedding trends in 2021 that event rental companies are likely to witness their clients leaning towards and partaking in.
1.    Dreamy Lighting
Good lighting can make or break a wedding venue. Whether the event is during the day or night, the lighting venue should sizzle at sunset and glisten in the moonlights. Thinking outside the box and finding inventive ways to integrate lighting will be a challenge. However, the choices are endless. Choose from candles to vintage chandeliers and mini lampshades to bring a touch of sparkle to the event. One of the most popular wedding trends in 2021 will be neon signs. Customized wedding neon signs for highlighting specific areas, guiding guests, or adding more creativity to the venue will continue to be a popular trend next year.
2.    Videography
The wedding trends in 2021 will be less about pictures and more about shooting moments. As wedding videography progresses rapidly, the increasing use of drones and modern videography equipment will be a norm next year. Modern AV equipment will help videographers capture memorable shots with perfect lighting and crisp audio.
3.    Sustainable Weddings
Holding a sustainable wedding is on most couples' list to be as eco-friendly as possible. Since we live in eco-conscious times, it's not surprising to see why couples consider options to cut back on unnecessary waste. Wedding venues are also becoming more sustainable, and caterers are turning to locally sourced produce for their menu. Couples are likely to choose farms and gardens over destination weddings. Event rental companies will need to make sure they offer the best eco-friendly options to help the wedding event be environmentally friendly. Get ready to swap out plastic straws with reusable stainless-steel straws to go plastic-free for the event.
4.    The Wedding Dress
Thanks to the former Duchess of Sussex, Meghan Markle, modern brides turn to unfussy and simple bridal gowns. Expect brides to choose chick, elegant, yet modern wedding dresses with a long veil. Puff sleeves are also making a comeback to replicate bridal dresses of the '50s and '60s. Brides will also go for trendier colors for their bridal outfits. We are likely to see Champagne, Rose Gold, Dusty Blue, and Blush Pink dominating future bridal gowns.
5.    Customized Menus
Gone are the days when you could play it safe with the traditional grilled chicken, creamy whipped potatoes, and a green garden salad. One of the most popular wedding trends in 2021 will be introducing customized menus featuring vegan or gluten-free items to accommodate guests' needs and tastes. In addition to that, the present situation also calls for safety measures and social distancing. That is why many people would opt for food trucks, plated dinners, or even snacks over buffet catering next year.
6.    Insta-worthy Charcuterie Boards
The popularity of photo-sharing networks such as Instagram is introducing new wedding trends. Couples now want their wedding food not only to taste good but also look great. Expect many couples to ditch the dessert table for varieties of cheese, nuts, crackers, and fruits. This gorgeous charcuterie board or table makes a great addition to any wedding décor and offers the perfect snacks for your guests.
7.    Embellished Gowns
Don't expect edgy jumpsuits, funky shoes, and bright colors to disappear by next year completely. Embellishments such as sequins, feathers, bows, lace, pearls, and rhinestones will still be part of bridal dresses and veils. Hair accessories such as barrettes and visors will complement these embellished gowns and dresses.
8.    Large Florals
Flower displays are the perfect way to transform a venue as they provide a visual uplift. Bold floral arrangements add an explosion of color and fun to a wedding, regardless of the colors or types you use for décor. Wedding and event management companies will have to develop creative floral settings to make the event look whimsically beautiful. Experiment with dried flowers and wildflowers along with the traditional white tulips, calla lilies, and gladioli. Pick eco-friendly suppliers for the venue and bouquet flowers.
9.    More Gin Bars
The changing dining and drinking trends will introduce more gin bars in the coming years. Since most guests are not keen on indulging in too much Champagne and wine, setting up gin bars and serving a large selection of cocktails will be a great way to let the wedding guests have a great time.
10. Cheese Towers instead of Wedding Cake
It's time to say goodbye to the traditional cake and make way for donuts, cheese boards, and grazing tables. Next year, a popular wedding trend will be serving guests with tiers of cheese layers with crackers and bread along with donuts and cupcakes. However, some couples would want to continue the time-old tradition of cake cutting on their big day.
11. Bistro-Style Reception
Every couple wants to hold their wedding in a relaxed yet formal environment. For that reason, one of the most popular wedding trends in 2021 will be a bistro-style reception. There is already a rise in acoustic performances and the trend will continue next year. Wedding planners and event management companies must brainstorm entertainment ideas to make a wedding event as entertaining as possible. Offering various dance and music performances using your AV rental equipment will guarantee a happening wedding reception. The most common way to design such an event is to consider hiring a DJ or an acoustic group who will perform for the guests or during the 'cocktail hour' to make the event more entraining.
12. Mismatched Tables and Seating
While this year saw the mismatched bridesmaid dresses, we are sure to see more of this trend influencing the seating options and table arrangements. Generally, reception venues and ceremony spaces stick to conventional options such as circular, rectangular, square, etc. The next year is sure to introduce unconventional reception ideas with mismatched tables and seating options to accommodate guests' needs.
13. Weekday Events
While everyone dreams of having a perfect weekend wedding, we are likely to witness more weekday receptions throughout the week next year. That's great news for people who have their hearts set on vendors or venues beyond their budget.
14. Brunch Weddings
The brunch wedding is going to be all the rage in 2021. More people are looking forward to outdoor events to benefit from daylight and enjoy sun-kissed experiences. Event management companies will have to ensure that a brunch wedding on a lush farmhouse or under a large tent goes as smoothly as planned. If you want to make it a less formal affair, offer scrumptious brunch boxes to the guests is a great idea. The couple and guests can continue the party through the day or even return to the event after a late afternoon nap to stay up for the late-night festivities such as live music and dinner.
15. Tents
Tents are sure to become more popular by next year. These spacious reception settings are great for accommodating large crowds. Whether you want to set up huge dining or set the stage for an acoustic band, this wedding trend always works. Tent rentals are the best alternative to indoor weddings that are now restricted in many states as a precaution to avoid the spread of the COVID-19 virus.
Final Thoughts
The best wedding events include an element of spontaneity or surprise to make it a memorable day for everyone. The wedding trends in 2021 will offer something unique for everyone and keep this element alive. Trust in Rentopian to streamline all of your operations for your event rental business, so you can focus on making your clients' wedding days as unique and special as they are. The intuitive event rental inventory management software helps you make every event a success. The all-in-one event rental software plays a crucial role in taking your rental business to the next level. Get in touch with us to find out more.