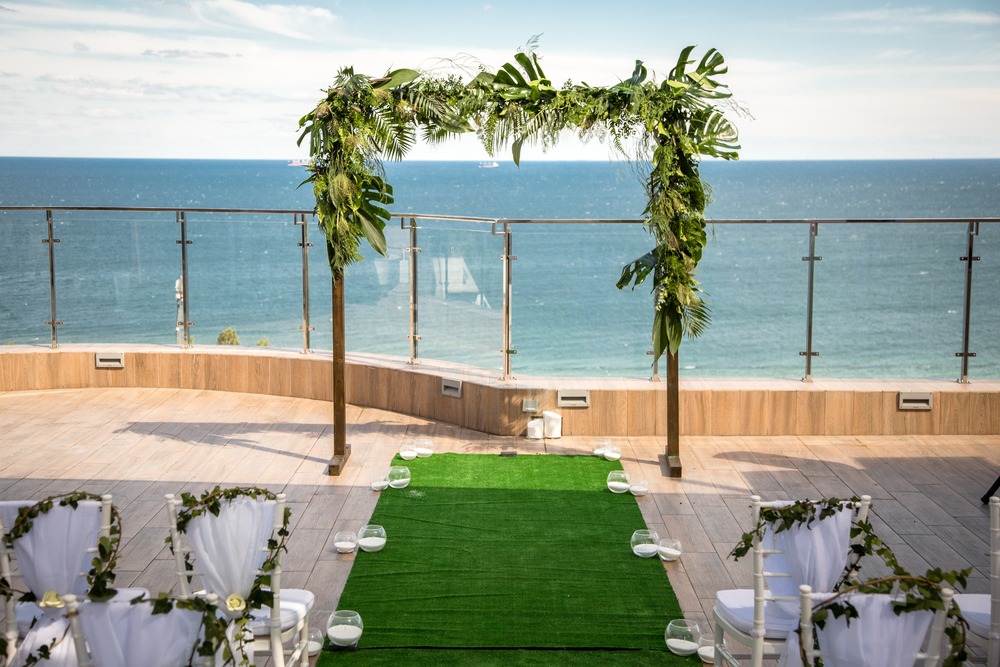 Planning an event might look easy from a distance, but in reality, it's not. There's a reason that event rental businesses and event planners are at the top of the list of the most stressful jobs in the world. It's no easy feat to juggle several tasks at once, deliver an outstanding experience, work with multiple vendors, and fulfill a client's wishes — all while making sure your inventory is in tip-top shape and meets the current trends. Event rental companies are nothing short of superheroes, but they are only as successful as the team they work with.
How do you put together your team? What kind of people do you hire? Not only is it important to hire the right candidates, but to also utilize an event rental software to help your team take their work to the next level.
1. Understand The Motivation Behind The Event
The basics of event rental coordination can be taught in several ways. You can take some classes, employ an in-house event coordinator or outsource, or learn from popular event planning agencies' social networking sites and blogs.
Every event is planned with a specific goal in mind. As an event rental company, it's important to understand the specific goal you have been hired for. Read the client brief properly and ask them questions about the event they have in mind.
Ask them for pictures you can take inspiration from and outcomes they are looking to achieve.
If you and the client aren't on the same page, it may be hard to pull off the event they desire, even with the team of your dreams.
2. Putting Together The Right Event Team
The first step in preparing and organizing a successful event is to create a great event team. Many tasks can be made much easier with the aid of a great team. Understanding what you want out of your team can be the first step in designing it. Evaluate the strengths of each team member and assign them what you think they can do best.
A fantastic event team translates into a spectacular event and flawless completion of the event schedule. It is your responsibility as an event rental company owner or manager to ensure that this team functions as a well-oiled machine. The success of the team is dependent on good management.
That is why an event manager needs to branch out and distribute the workload among a well-coordinated event team.
It is essential to be completely sure what kind of event you want to pull off. Hire a team that compliments your progress, not hinders it.
For example, if you are providing event rentals for a wedding ceremony and are also planning the day-of coordination, make sure your team has a great aesthetic sense and is ready to make any last-minute changes. If you are organizing a hiring event, such as a career fair, make sure your team members can arrange multiple stalls simultaneously and streamline the process of employer-employee acquaintances.
With Rentopian, the all-in-one event rental software, each user on your team will have their own login. As an "Admin" user, you're able to:
Create a User Role and assign any user to that particular role, such as a Sales Representative, Driver, Warehouse employee, Laundry Room staff, and more.

Set granular permissions to allow or restrict each user from completing or viewing anything in the system.

View a detailed activity log with a date and time stamp of any actions each user took in the system and a history of the changes they made.
3. Develop Priorities And Goals
The golden rule of event planning is to never initiate an event without a thorough plan for how it will operate from beginning to end. As simple as it might be, this is a fundamental rule that all experienced event planners follow.
Prepare a game plan ahead of time. It is important that you have a good picture of what you want to achieve. Only then will you be able to lead the team and help them appreciate the purpose for which you will all be operating.
Create a list of the fields that need manpower and perform research accordingly. You would need someone to oversee sales and another to handle promotions. First, it is important to have a clear view of the team you want to create and the tasks for which you need staff before conducting research and recruiting.
Get the word out, look at the teams behind successful events in your area, ask peers and event planners for recommendations, and find the best players in the community to create an awesome event team that you can then manage.
4. Delegation of Tasks
Once you've identified the tasks you need to complete, it's time to delegate. Delegation aids event rental companies and planners in optimizing their preparation and management processes. This will certainly speed up the implementation process, particularly when you have short lead times.
Create a list of all the tasks that need to be accomplished and give each of them a deadline. Know the strengths and limitations of each team member you're working with before creating a project schedule.
By using Rentopian's Tasks functions- you're able to:
Allow team members to assign follow-ups, tasks, and more to the entire team, or to individual members.

Set deadlines and track which employee completed the given task.

Receive notifications when tasks are assigned to the specified user and additional notifications when they're completed or have become overdue.

View Open, Completed, and Overdue tasks with ease.

View daily tasks directly on the dashboard.
5. Supervision And Follow-Up
An event rental company manager or planner is responsible for ensuring that his or her entire team pulls off the perfect event. As a result, they are equally, if not more, responsible for each assignment assigned to the team members. As a result, careful monitoring and follow-up are important.
Make it a practice to check in on the process at periodic intervals once the tasks have been allocated and the preparation has begun. You may also send out deadline updates to your team a few days ahead of time.
Choose the strategy that works best for your team and you, and then guide your team in that direction. If there are any delays or failures, make sure to get to the root of a problem, figure out what's causing the delay, and resolve it to get the process flow back on the right track.
6. Use Technology
Digital assistance is necessary to streamline your event rental company and team.
While you may be enticed to use various tools, Rentopian was created to streamline the online rental process with a complete suite of event rental management software. You'll gain all the functionality of your favorite tools in one place. We integrate with popular software like your payment processor and document-signing tool so you don't have to waste time connecting the dots. Additionally, the streamlined processes create a convenient and user-friendly method for your clients to reserve, sign, and pay online for their rental order.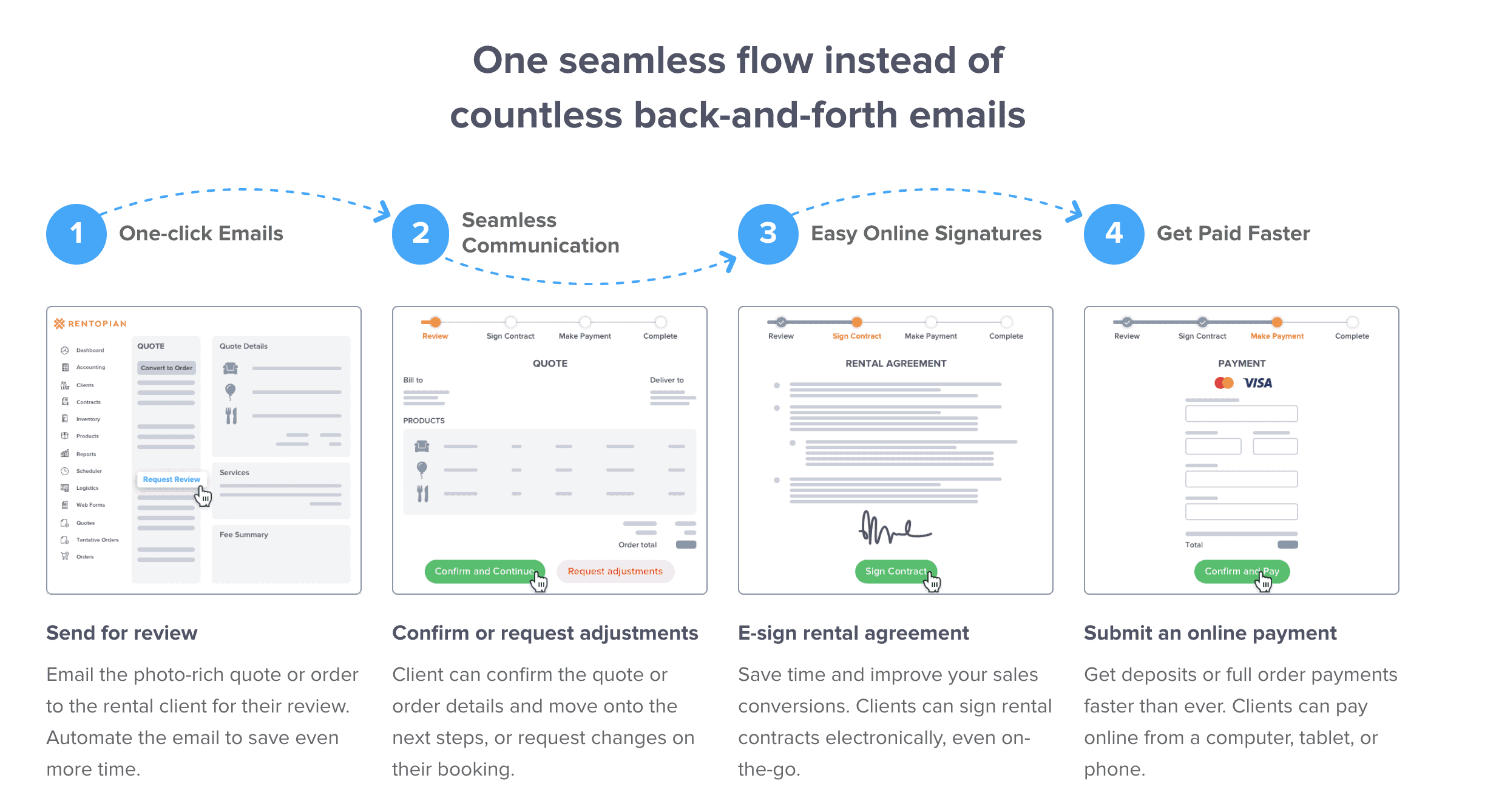 7. Clear Communication
You can't expect someone to complete a task correctly if they don't know the task. It is important to communicate effectively to carry out the event smoothly.
One of the most common causes of errors is a breakdown of communication. It's not uncommon for the team to be unsure of what needs to be finished, how it should be done, or when the deadline is.
Make sure that everyone understands the situation. Contrary to common opinion, maintaining a single contact channel is the key to event management success.
Having several communication channels can become confusing and open up opportunities for some communication to slip through the cracks. Effective communication aids in the completion of tasks more quickly and efficiently.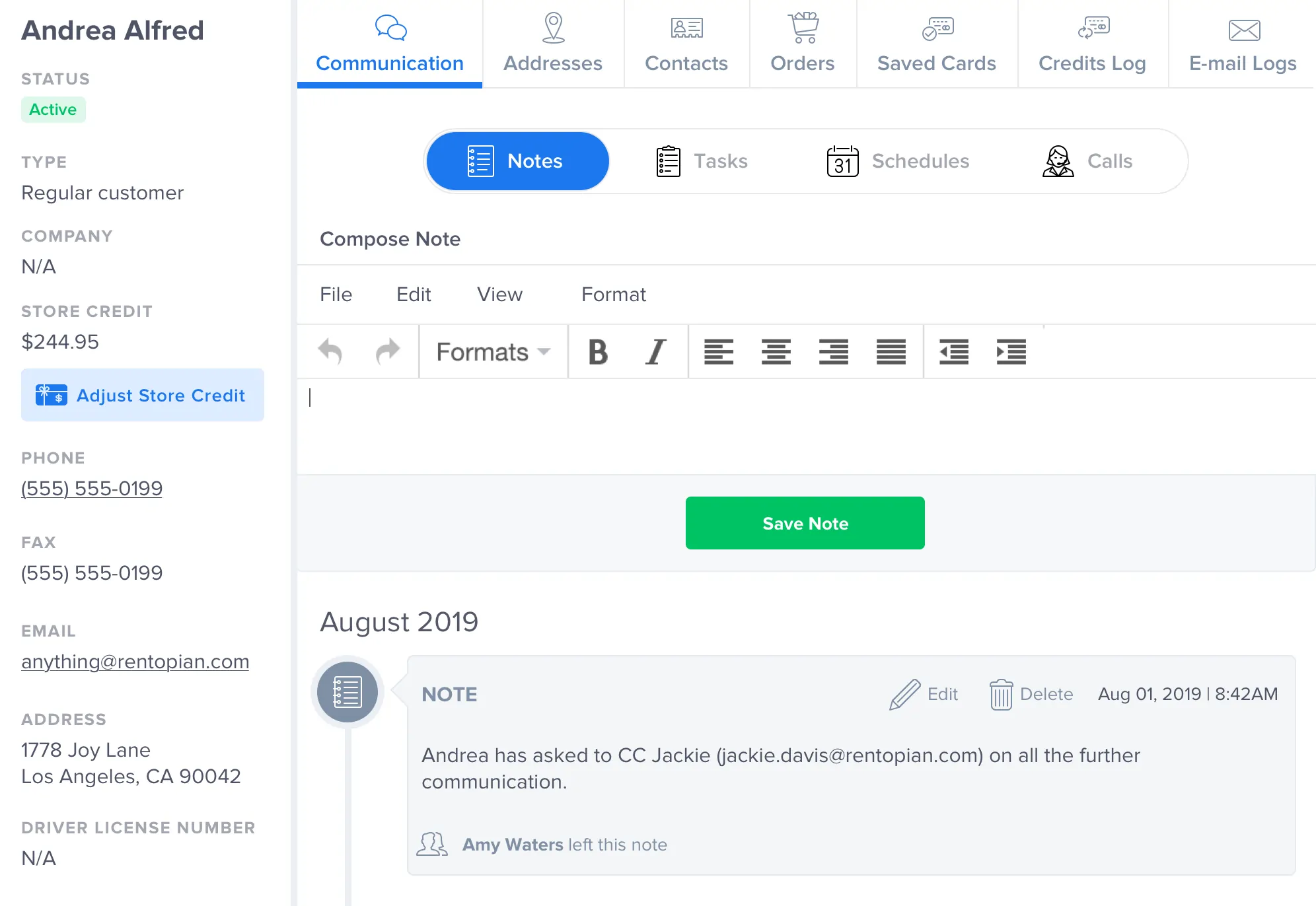 8. Incentivize
A driven team gives it their all with everything they do. Any given task can be performed in several ways. Energized team members ensure that everything is completed as efficiently as possible.
So, how can you persuade your team to go above and beyond? Showing gratitude by awarding your team members rewards is one way to keep them on track. These rewards may be monetary or non-monetary. Even a few phrases of gratitude can make a big difference in people's lives.
9. Have A Vision
As an event rental company and/or event planner, the task is to lead your team in orchestrating an outstanding event. You must leave no room for doubt to accomplish this. Have a clear vision in mind and work toward making it a reality.
There will undoubtedly be some bumps in the road. After all, the event team is made up of people, and everyone makes mistakes. There may be some aspects of the case for which they are unprepared. 
It is then your responsibility to guide the members of your team. You have to learn about business developments and keep up with them to assist your team when they get stuck.
With a little commitment and collaboration, you can definitely pull off a good event, no matter the size or type.
10. Take Every Event As A Learning Opportunity
There will be stumbling blocks in the way to completion, but once the job is done, take a few minutes with your team to do an event recap. Recognize where things went wrong, why they went wrong, and how they can be fixed. On the contrary, discuss what worked well, how you were efficient, and what made the event run smoothly. Design a teaching moment for the whole team by addressing each of the issues.
If challenges are viewed as a learning moment, and a constructive spin is put on how they were handled, the team and all of its participants will be able to identify the warning signs the next time they experience a similar situation. By doing so, they can define a problem before it becomes a stumbling block.
Make positive changes after each occurrence to bring what you've learned into effect. To find shortfalls in the event managerial style, review the input you get from attendees, employees, and your clients.
Conclusion
Every experience provides an opportunity to improve performance. Try to change your event management style in response to input from guests, staff, and volunteers. After all, enhancing your event management style will enable your events to provide a more positive experience for all parties involved.
You and your team will be prepared for success as the busy event season approaches if you keep these pointers in mind.
For a personalized free demo of our all-in-one software and to sign up for a free trial, get in touch with our team!