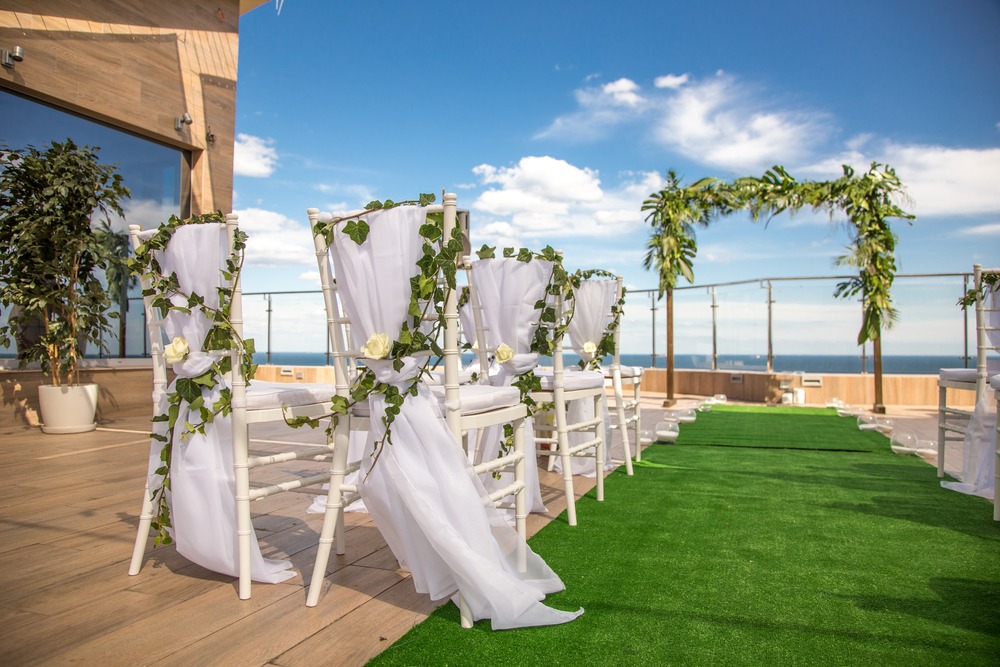 These days, technology such as event rental software like Rentopian is both dictating and driving the way events are organized. We'll take a look at some of the online capabilities that have become indispensable assets to vendors in the events industry, including dedicated software functionalities that help event rental companies manage and grow their business.
The days of brick-and-mortar stores are long gone. It was easy for small businesses, in particular, to get started but what you'll find is that there were limitations from an area and convenience perspective since these stores required expensive real estate, employees with physical assets like vehicles, and training in specific manners to greet and guide customers. Operating from an online website means a business can reach a larger audience easily, as well as keep costs down while growing a brand's presence across all media channels. Thus, online stores overshadow their traditional counterparts when it comes to showcasing one's rental concept in the most effective way while potentially increasing profitability.
By offering an easy way for your customers to search for and browse products, there will be more opportunities for individuals to rent from you. Not just that, but it will benefit both you and your clients by reducing the time, energy, and money you spend on managing your inventory because Rentopian can pull up 100% accurate inventory levels within seconds so you're never counting and second-guessing yourself.
Here are the remaining 5 most important factors to consider when choosing an event rental software:
Business Optimization
Event rental software that doesn't let you manage the behind-the-counter aspects of your business and just makes it easier to track reservations isn't contributing to your overall growth. Don't settle for a tool that simply lends you a hand in monitoring reservations; Rentopian provides solutions designed to grow your business and develop your customers' experiences.
Your website is essentially your online store. It allows you to advertise and sell your rental items more efficiently than with traditional methods. Your website portrays a collection of all the rental inventory that one might need in order to get a project done which gives a client an opportunity to make an educated decision regarding the purchase of these products instead of simply renting them.
Flexibility
An event rental management software must be flexible. This is necessary because it needs to appeal to a wide range of users with different demands and strengths. For example, your rental management software might be used by rental heavy equipment shops or retailers who offer intricate party favors. The software should be able to adapt and understand how your users will use it in order to provide them with the best experience using it!
Thus, those widely different needs should be catered to seamlessly. The system's ability to service those different purposes demonstrates its integrity—the fact that it can take on so many different tasks at once shows how flexible the design process is.
User Friendly-ness
Ease of usage is one of those things that can spell success or failure. It's how user-friendly a product or service is to use and how efficient it can make your life better depending on its utilization. Learning how to use more features to their full potential will definitely help with this as they can improve the way you do business within your given field so there's really no reason not to pick up some new skills if it means being more successful professionally. And let's face it: the rental management system is for making our lives easier and we all want to be successful at whatever endeavor we choose.
If a website, service, or application is made simple to use, people who use it will like it and probably want to keep using it. Satisfied customers mean less pressure and more time to concentrate on the things really important to you and your business. If you're looking for an easier way to handle tedious but important daily tasks, finding an easy-to-use app could put your mind at ease and help improve productivity throughout your company.
Once you've seen a software product demo, request a trial account and test it out with your team to ensure that everything works as expected. Think of possible scenarios and questions that might come up when you're testing such as: "How long does it take to create new contracts and bookings?" You'll also have to present your software findings to your teammates or employees/employer so make sure whatever you're presenting is user friendly, streamlined, secure, and clearly presented in an intuitive way so they won't have any troubles completing the necessary procedures or tasks.
Ease of use is the number one factor in predicting how successful a transition to software will be. 
Integrations and Third-Party Compatibility
One of the most important components of any business's software is having the ability for its many different applications and services to be able to communicate with each other. Rentopian is an all-in-one event rental software solution that allows you to coordinate your company as a whole by integrating your systems into one cohesive software that gives you visibility into everything that's happening in your event rental business from every department including day-to-day operations, accounting, customer support, and more.
Accessing data from anywhere means you are better equipped to make strategic business decisions for growing your company while also providing a superior experience for customers who feel confident dealing with experts who specialize in what they do because they know your staff is always just a phone call or email away.
Website and Online Orders
If you're serious about your business, you should at least have a website to promote your products or services. It acts as the virtual face of your organization and allows for easier communication than email when it comes to dealing with customers in various situations, especially those that are online-based. A company needs its customers to not only order in person or on the phone, but online orders need to be coming in order to continue operating – otherwise, it would cease to be a business!
Rentopian synchronizes your rental operations between the backend and the frontend so you can easily display your inventory, images, descriptions, etc. on your own website. We automatically update changes made to any of your Rentopian settings as well as inventory updates and more. When this is done in real-time, you don't have to worry about manually updating anything. 
Managing a website can be time-consuming work and hiring a web developer sometimes comes with an expensive price tag. However, having an online rental store allows you the freedom to manage your site whenever you need to while also increasing quote submissions and booking conversion rates effectively reducing the time spent on your website maintenance.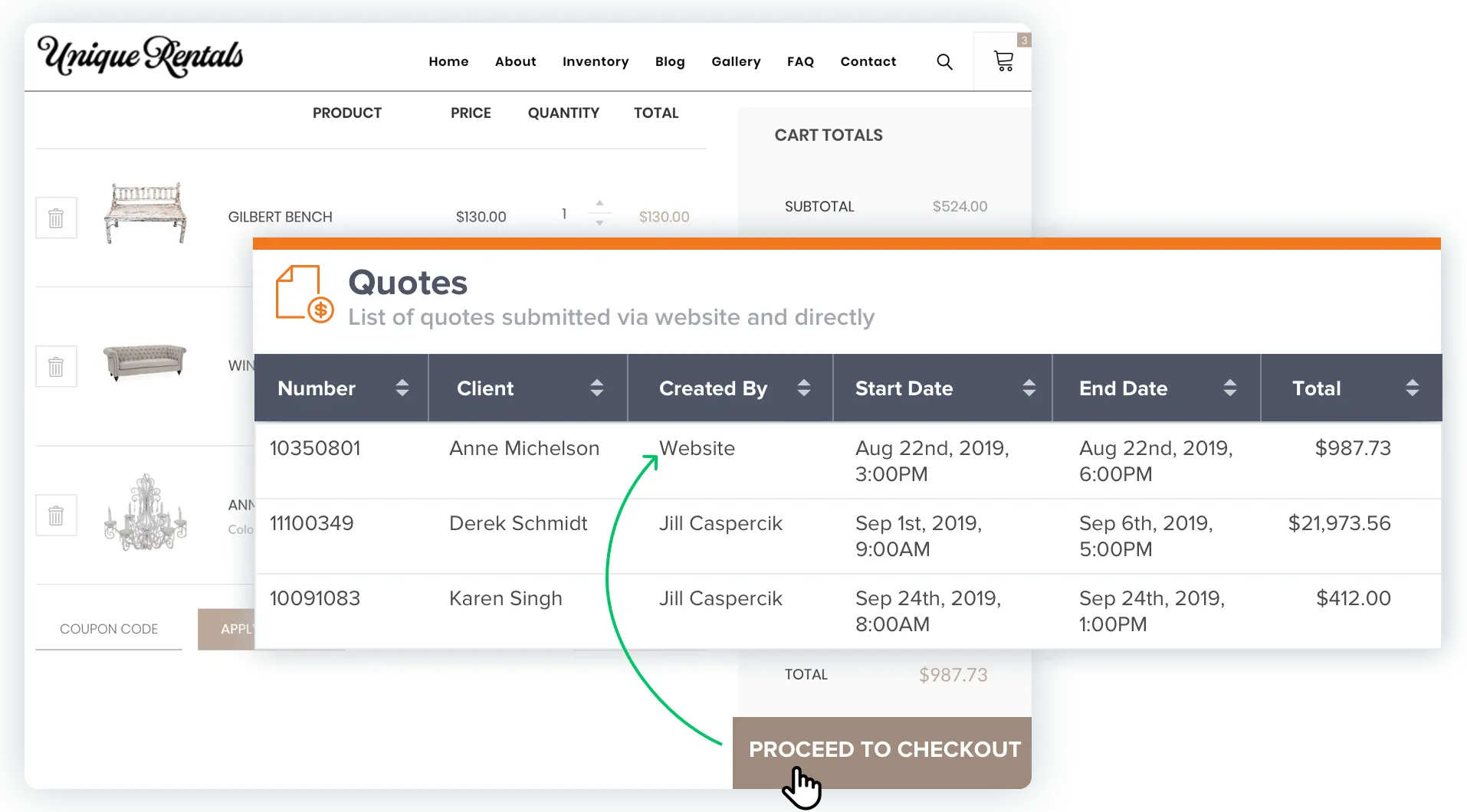 Conclusion
At Rentopian, we're always finding new ways to make the experience of renting party equipment better for people and businesses. The all-in-one online booking software is more intuitive and easier to use than any other solution on the market – allowing customers to easily view pricing information for their events and pay for equipment once their reservations are confirmed.
For an event rental company, Rentopian has the right tools to keep up with your inventory management no matter what parameters you choose. The advantages include online scheduling and transparent software analytics that promise to make your life as an event rental company easier. What most people don't realize is how Rentopian's modern technology can help you streamline profitability and better understand your financial resources so that your business can grow! Schedule an online demo and receive a 2-week trial of the only software you'll need.